The ticket lady
April 24, 2012
Jeff kicked the bucket angrily. It flew over the gate and hit his cow, Betsy, on the nose. She mooed in pain and turned away from him. "I'm sorry Bet." He sighed going over to the gate and climbing over. Then he kissed Betsy's nose and rubbed it until she mooed happily. "Jeffery Miles Jones, if you do not come into this house right now!" His dad screamed from the house. "Why don't you go back inside and make me a baby brother with your h*!?" he shouted back not looking at his dad. He didn't know his father had hit him until he was on the ground. His head ached from where his dad had punched him. "Don't you ever refer to Lizzie as a h*. She will be your future mother so you better respect her." His dad growled. "Honey, is Jeff all right?" Lizzie called nervously from the house. She played with a lock of her dyed beach blonde hair. She looked younger than she really was but she was young, only ten years older than Jeff. "It's fine Lizzie. My son is just being an idiot." His dad shouted back to her still looking at Jeff. "I hate you." Jeff said barely audible but his dad heard him. "Right now I don't care. I love Lizzie and you better learn to like her." His dad replied in a gruff voice. "I'll like her as much as I like my cousin Dhara." He replied getting up. Right then and there he knew in his head that this would be the last day he ever spent at his home.


Late that night Jeff climbed out of his window. It had taken forever for his dad and girlfriend to fall asleep but they had finally turned their lights off. He pulled his book bag out behind him and raced toward the road. He wanted to be as far away as possible before his dad woke up. He probably wouldn't notice until he saw Betsy wasn't fed. Jeff snorted. He knew his dad wouldn't care. He hated Jeff and Jeff felt no love for him.

Jeff walked on the side of the street until he reached the bus station. The one transportation that was cheap and runaway's best friend. He walked through the doors and smelt the smell of dirty people. There was only one person there, a woman with a ratty orange coat. She was hauling her things in a grocery cart. She smiled at Jeff and continued walking towards the benches. When she reached them she curled up on one and drifted off to sleep. Jeff took a breath of the stinky air and walked to the ticket counter to buy his ticket. "Hello, how may I help you?" the woman behind the counter said. "One ticket to Ocean City, New Jersey please." Jeff replied getting his money out. "Now, that's a way from here young man. Where are you headed in New Jersey?" the woman asked ringing his ticket up. "Going up there to visit my mother." He said. The woman looked at him kindly and stopped ringing his ticket up. "Now you know that's a lie boy." She replied crossing her arms over her chest. Jeff looked speechlessly at the woman. Who was she to accuse him? "Excuse me, but you have no right to doubt my reason." Jeff said getting annoyed. "Your father never said anything?" the woman asked. Her eyes showed disbelief. Jeff shook his head confused. "You don't remember me at all?" the woman asked with hopefulness. Jeff shook his head. "Jeffery, I am your mother." The woman let jumping up and down. Jeff looked at the woman and almost ran home to his father and his soon to be step mother.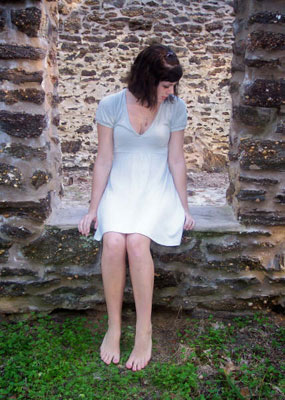 © Katie S., Vineland, NJ