The Praying Mantis and the Bee
April 28, 2012
He was quietly sitting on a peach blossom, completely unaware of my presence. Slowly, I crawled closer and closer. In moments I was inches away from the bee, and still he was utterly unaware of my presence. With lightning speed, I snatched the bee in my two front legs. Unexpectedly willful, the bee struggled. I couldn't get a good grip on him. Despite the razor sharp spikes on the insides of my front legs, he still wouldn't be still. I needed to somehow make him stop moving, I saw no other option. I opened my mouth wide, and quickly bit off his face.
As I bit down, I felt the glorious feeling of his big, black eyes giving way under my strong jaws. They were juicy, and absolutely delicious. The liquid from his eyes, and the blood from his head, dripped slowly down my throat. The sensation was glorious, quenching my burning thirst.
His face was very crunchy. The sound, like dried leaves slowly being crushed into oblivion. I wanted more. Avoiding his antenna, I promptly finished off the rest of his head.
The bee was pleasurably still by now. His limp body heavy in my arms.
I bit into his soft, still warm and fuzzy body. While his fuzz was rather course, and scraped my throat a little as I swallowed. The rest of him was absolutely fabulous. His muscles were a bit tough, but they gave my jaws a satisfying workout. His heart and liver were soft and squishy, his intestines long and stringy, like noodles. Amazing! I particularly enjoyed the wonderful collapsing of his tiny lungs between my powerful jaws. (Possibly my favorite part of any meal.) While greatly relishing in my meal, I did remember to leave a few remains as an offering to the gods of prosperity.
When I was done, I gave a prayer of thanks and wished for future prosperity. As I walked away from the remains of my meal, I felt a beautiful sense of satisfaction and comfort.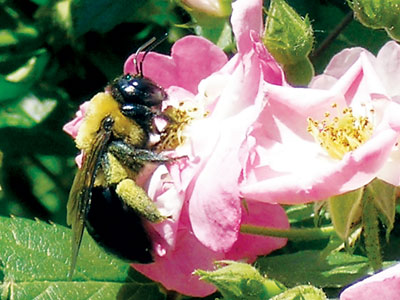 © Esti N., Stamford, CT