suffer in silence
May 22, 2012
I was walking down the hall to math when it all happened. First, there was pain. Then my vision began to blur. It was as if someone had shut off the lights. I could faintly hear my books fall to the ground. My breathing began to quicken.
What was happening? Scratch that, I knew what was happening, but that didn't mean I wanted the whole school to know what I was going through. I wanted to suffer in silence. I agreed to suffer in silence. Finally I could ignore the pain no longer. I sat down in the middle of the crowded hallway, leaning against the cool lockers, feeling the lock in the back of my head. I tried not to cry. I told myself I would not cry. I attempted with all my might to stand back up and go to class. I couldn't. I couldn't get up. I couldn't move. I couldn't help but cry. I closed my eyes, fighting the tears, when I heard a voice,

"are you okay?" I opened my eyes, a simple excuse already forming on my tongue. But before I knew what was happening he was leaning down to help me. His dark green eyes caught my own for just a moment. There was a kindness in them that I have never seen in anyone before. Before looking away he winked at me. There was a hint of mysteriousness behind the compassion behind those beautiful eyes. He grabbed all of my books and held his hand out. Still a little dumbfounded a put my own hand in his own. Without much grace I let him help me up and he guided me down the hall, never letting go of my now sweaty hand.
I didn't know that boys name. I still don't. I had never seen him before. And I haven't seen him since. We were complete strangers. At one of my weakest moments, he was there for me when nobody else was. He was my savior; my guardian angel. I will never forget that moment.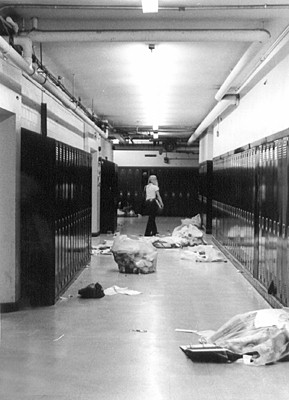 © Halsey S., Marblehead, MA