School
July 6, 2012
It was playtime, but fifth graders didn't play. Not like the shrieking first graders running around the playground looked upon with contempt. They definitely had more class as first graders. Crystal and Sonya had taken pride in kidnapping kindergarteners in first grade. That day, they were amidst the circle in the middle of the playground, amidst the shrill games of tag and loud shouts from the handball game.

"Poke it-"

"Step on it-"

"You wouldn't-"

"Stop it!" the owner of the voice- she was shoved aside.

"You have a stick-"

"- It'll stick to my new shoes!"

"Here I'll do it."

And she did. The stomp of a foot was all it took. With the wide eyes that followed, she knew she had done it. Dead! She'd killed it!

They looked to each other, for confirmation, or perhaps even for comfort. Awestruck, their little circle was silent but for the playground noises hovering in the background. Lucy who protested more awestruck than anyone else.

Sonya's head lifted slowly to reveal the grin spreading across her face.

Grinning is contagious.

Dead! She killed it! They wouldn't, but they did.

They grinned, they laughed, they turned to Sonya to congratulate her. And Sonya. Sonya gave the dead a few more stomps for good measure.

"It deserved it-"

"Of course it did!"

"Good riddance!"

The bell rang.

It would never again hear it but the bell still rang.

They pulled up their socks and straightened their uniform blouses. Sonya patted the stray strands of hair that had escaped her braids. They had to be presentable.

Off in twos they went, recalling now their weekend, weekend plans, Crystal's birthday party. Up the stairs and into class, to learn about the age of exploration, the dead on Sonya's shoes unimportant and quite forgotten.

Only Lucy stayed behind in the playground and stared at the spot on the ground. What had passed seemed obscure and distant, and a sense of it couldn't quite be procured. But she left too. She had to. The bell rang.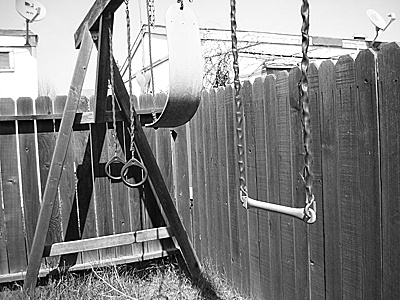 © Brittan S., Chino, CA