Tough Decisions
July 10, 2012
Sandy walked into her house. It was brown and ordinary on the outside and white and ordinary on the inside. The first thing she noticed was the bottle, clear with blue writing on it. She didn't want to see what the writing said; she already knew. There was a line of frost on the outside of it from the condensation of being removed from the freezer. It was clear where the drinker had stopped.

Sandy walked a little further into the house. She smelled burnt macaroni and cheese and saw the pan on the stove, steaming. One of the cushions from the living room couch was lying on the kitchen table, the stuffing ripped out of it. Another bottle lived next to it. Sandy was beginning to cry; she thought she knew what was waiting for her in the next room – a crumpled up person lying on the bed with a sweaty face and twitching eyeballs – but she really had no idea.

The bedroom was torn apart.

Pieces of paper were scattered around the carpeted floor, pillows were ripped out of their cases and thrown everywhere. The blanket was the only crumpled up thing on the bed. But what Sandy noticed most of all was the figure on the floor, sobbing loudly as it picked up green pills with its shaking fingers and deposited them back into a container without a label. Three of them were left untouched on the ground, waiting to be taken with a tall glass of the stuff in the clear frosted bottle.

The figure looked up at her and Sandy gasped. Her mother looked nothing like herself; her hair was a mess, tears made her mascara run all the way down to her chin, and her eyes were puffy like they might fall out of their sockets at any minute.

Her mother picked up the three pills, without looking away from Sandy, and took them, drinking something out of a shot glass to wash them down. She started crying again and reached for Sandy's hand but Sandy backed away. She knew what this meant – her mother was doing something she had promised to never do again. Drinking was always her strong suit but this?

Her mother started sobbing loudly.

Sandy turned around and walked out of the house.

She never looked back.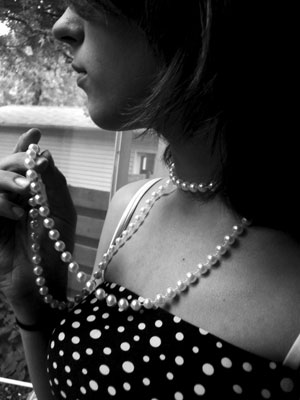 © Elaina V., Canton, OH