No Room To Breathe
August 2, 2012
Everything is dark and cold. The earth smells of decaying bodies, and the rain that drips through the loosely packed soil tastes of bitter mud. The walls around me threaten to cave in, forcing the air from my lungs as I gasp. The choking cry that issues from my lips is instantly stopped by the wooden barriers that make up my prison. Salty tears stain my cheeks, tasting bitter and lukewarm as they slide down my face to my lips, which are swollen from repeated biting from my chattering teeth.
"Help!" I sob. "Please, help me!"
The words never leave the close confines of this wooden box that is so much harder than my soft bed.
Terror overwhelms me; imagine my fright to wake in a small wooden box, cold, suffocating, and alone. Splinters embed themselves in the soft flesh of my fingertips as I claw desperately at the lid for escape. I can feel the sharp stabs of pain as my fingernails are torn from my fingers while I scream uselessly, six feet below the surface of the earth where no one can hear me. I'm still screaming when the air runs out.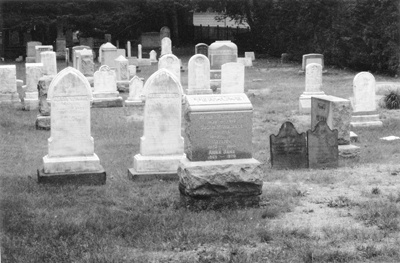 © Chris C., Pequannock, NJ