Cutting
August 24, 2012
'Girl's, volleyball is starting in five minutes. Hurry now and get your kit on!' The changing room then erupted in what sounded like an orchestra of groaning and sighing and we all pulled on our little skirts and tiny t-shirts. But I couldn't help but notice Abby escape into a toilet cubicle. She always did this. She refused to change in front of anyone and if all the cubicles had been taken up, she'd do it with such haste, holding up her clothes in front of her so we couldn't see any skin. I remember feeling sorry for her, as she appeared to be so insecure and self-conscious, as well as having not really having any friends at school. I never realised it was a great deal more than that, until I knocked on the cubicle door to call Abby out when everyone else was leading outside into the playground. 'I'm almost done' she whispered and I waited for her for a few moments. She came out, attempting to cover herself by hugging her arms around her hips but I snatched a look at her arm. There were very faint -but very much real- gashes in her skin. I gasped and she quickly turned round. Neither of us said a word. But I knew. And she knew that I knew. We stood for a while in the empty changing room, silent. I suddenly had such an urge to hug her. She did seem to need it. I put my arms around her shoulders and she almost collapsed against me. She had been going through so much and none of us had known. It had been her secret. That she was cutting herself: cutting her skin whilst cutting away at her confidence and self-esteem.

We didn't go to volleyball that day. We sat in the changing rooms and talked for almost two hours. The things she was saying startled and shocked me and I knew she had to get help. When our P.E teacher came back into the changing room along with the rest of the class, I looked at Abby, took her hand and told her that she needed to tell her parents and I would be right by her side through the whole process of her getting better.
And with that, she got up off the bench, walked over to the teacher and said 'Miss, I need you to ring my mum.' All she needed was a friend. And I was so glad I was there to be hers.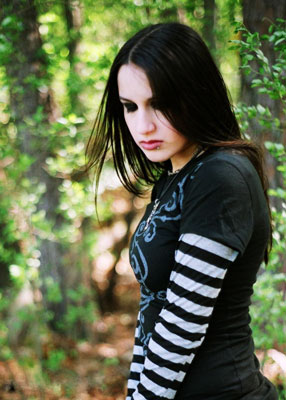 © Rebecca B., Marietta, GA