I Am Alone
September 24, 2012
As I sit quietly on the floor, I can hear a drumbeat throbbing in my head. No one else can hear it, only me. It sounds like a heartbeat. One lone heartbeat, steady and sure, comforting me as I sit alone. Loneliness is not something I am accustomed to. Surrounded by family, friends, and even random strangers who smile at me and strike up a conversation, I am never alone. Now that I am suddenly plunged into this silence, I find that I don't like it.
People have told me what it is like to be lonely. My friends have told me about it, and I sympathized, but I could never understand. This is what it's like to be lonely? The pain is intense. Just a gaping hole inside of me that bleeds and aches.
As I sit there, alone on the cold floor, arms wrapped around my knees, I listen for the heartbeat. It's a life line, reminding me that I am not the only person. There are others out there. But even as I listen it begins to slow. Thud. Thud…thud………..thud………………..and then it stops. And I am utterly alone.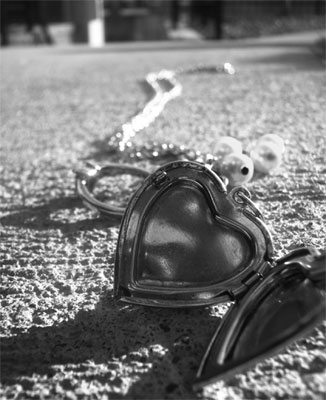 © Francesca Y., Robbinsdale, MN