Thirteen
September 30, 2012
Thirteen is an age where you can walk to school, but you can't drive a car yet; you can wear lipstick, but you can't have a boyfriend. You make a wish list and count the days before your birthday. And when you turn thirteen, you feel the tingles: you're finally a teenager.

I didn't sleep in very late that morning, so I decided to take a long, hot shower. I tried to scrub away all of what was left of "twelve," but it still felt like the number was tattooed across my forehead. I fixed my frizzy hair and put on a dark blue tank dress. It was hard to sit still, so I went downstairs and had breakfast: a granola bar and Greek yogurt.

While I sat at the table and stared out the window at our backyard, I thought about being twelve. It seemed like such a boring number. Thirteen was a vibrant year full of many colors like a rainbow. I remembered I used to think, "if only I was twelve." This past year I thought, "if only I was thirteen." Now that the day had come, I wished I felt different. You know, I'm a teenager now, and I should feel all tingly and special like a pop star winning a Grammy or something. But I don't. Did I really turn thirteen or am I stuck at twelve?

By noon, the food for my party was laid out on the countertop. I sneaked a few potato chips before deciding the TV would be good company while I waited for my guests. Oh, right. The guests are my relatives. I loved spending time with my family, except that sometimes, they could be loud. Since I wasn't a "popular" girl and all, I didn't have too many friends to invite to the party. And the ones that I did have were away on vacation. I had no one to text and no one to call.

Finally, my uncles and aunts came. We sat around the dining table, which was barely enough room for my relatives on my dad's side of the family. I shoveled food into my mouth, realizing that I was extremely hungry. It was like I hadn't eaten anything in days. I talked with everyone, but they seemed like almost strangers to me. I hadn't seen them in a long time and a slight awkwardness filled the air. I still felt twelve.

When I had the chance, I snuck away to my bedroom and checked my email while the cake was being decorated. I had received an e-card from my friend, Katherine, who lived in Ohio. A smile formed on my face as I read the card. It had an animated teddy bear which sang cheery birthday tunes to me.

"Christina!" Mom called me downstairs for the cake.

Before going to the dining room, I glanced at my clock which now read 2PM. I felt slightly angry or maybe upset because I still felt like twelve.

We turned off the lights in the dining room so we could see the sparklers. My birthday candles were shaped like a one and a three and decorated in multi-colored polka dots. I didn't think that these candles looked so childish in the store. But now that I was looking at them atop my cake, I thought maybe I should've stuck with plain gold and silver.

"Happy birthday to you!" everyone sang in the warm glow of the candles.

Suddenly, time stopped and an earthquake of realization hit me: I was thirteen. But thirteen wasn't just a number; it wasn't just another birthday, wishing I could be another age like twenty one. No, thirteen meant something much more important than presents or cake or balloons. And as the voices around me sang, I knew exactly what thirteen was. And that was family.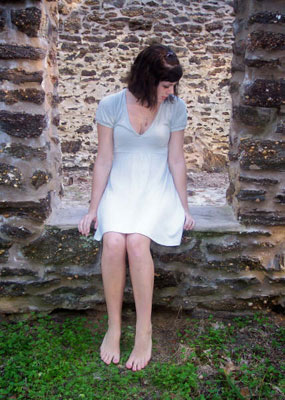 © Katie S., Vineland, NJ