This Story is a Song
October 27, 2012
It was the sad story of the rest of their lives. Boring Mondays, busy Fridays, and all the compliments of that which is oddly normal and unevenly in-between. That life had not severed its purpose for me, and the world and I had soon grown sick of it. I was an idealist, a writer, and an optimist from the beginning of my time. I did not openly show this, as I remained clearly undefined in the face of the public shadow. In my existence, I was neither a runner nor a fighter. Neither a surrealist nor a realist. I showed nothing and I was wondering what to do.
I fled the small town of Willow Montana in search of a new place and a higher meaning. In search of someone more like me. Someone who was creative. Someone who shared an eccentric interest and goal. Someone you couldn't find in my small town.
I sat alone on a park bench in an attempt to escape from the sounds and pollution of my new city. The grass in the park reminded me of the place I came from, but the air held a stable taint of smoke. I looked up to the sky to find the stars where gone. At that moment, I felt frustrated, desperate, and defeated. I searched all day and found no one.
"Come on!" I screamed as I jumped out of the bench "I tried! I tried really hard! I don't care if it's a girl like me! I don't care if it's a guy! I don't care about their title! I only care about their name! I don't care about their fortune! I only care about their world! Please, I beg of you just give me someone!"
All the people in the park heard me. They gave me awkward looks, backed away, and whispered. I did not care. Embarrassed or not, at least I made a solid appearance.
"So you've been looking too." Said a boys voice behind me.
I turned around to answer.
"Yes." I said
"Me too." He said, "I'm glad you escaped."
"You too." I said, "I'm glad you found me."
"Yeah, what do we do now?" He asked
"We live now." I said.
At that he smiled. I took his hand, and we walked away together.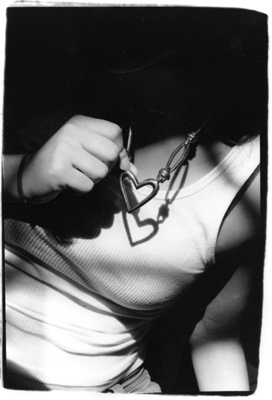 © Julia R., Bethesda, MD