Reward
November 8, 2012
Click, click, flash. The cameras blind me as the bored-looking photographers behind them click away, just doing their everyday job, nothing special. The reporters in my face ask me pointless obvious questions, like "How do you feel about the arrest?" Um, I don't know, I'm slightly upset that we caught a terrorist and that he can't run free killing people anymore, living a happy terrorist's life. Seriously, these reporters need a little creativity. When they've finished asking their meaningless questions, they thank me and tell me that my story will be in tomorrow's paper on the front page. They say this like I am the luckiest person in the world, as if I just won the lottery. I don't feel like I did.
I joined the FBI to help people and protect my country, not become a celebrity. My partner and I just made a huge arrest, a terrorist who killed 42 people and wounded 35 others with a bomb in Los Angeles. It's my first big arrest since I joined the Bureau two years ago, and I'm extremely proud. People like the reporters keep congratulating me, saying I'm all over the news and the internet. But I don't care about any of that. Is this my only reward? Becoming a celebrity, where everyone knows who you are? I'll pass, thank you very much. I was hoping for a reward that was a little more… well, rewarding. Maybe I joined the Bureau for the wrong reasons.
A week later, news stations, papers, and the internet have forgotten about 42 dead bodies, 35 wounded people, and two FBI agents. My partner and I are on a new case, so I've almost forgotten too. But after one late night at the office, I come home to an envelope postmarked "Los Angeles." I open it, expecting some credit card company trying to bankrupt me or a charity wanting my money. It's neither. It's a letter, written in large sloppy letters on a piece of lined paper with the scruffy edges that say it was torn from a notebook. From a child. I begin to read it:
"Dear Mr. Maxwell Everett,
Thank you for catching the bad man who stole my daddy from me. My daddy worked in the building where the bomb went off in Los Angeles, California. I really miss him, because he was the best daddy ever. He played Monopoly with me and took me to all sorts of fun places like SeaWorld. But the evil man took him, and now it's just me and my mommy. So thank you for being a hero and catching him and making him pay for his evilness.
From Sarah Adams, age 7"

There are tears in my eyes when I finish. This is why I became an FBI agent. This is the reason I joined the Bureau. THIS is my reward, knowing that I've helped, saved, or avenged someone, and that people are grateful for it.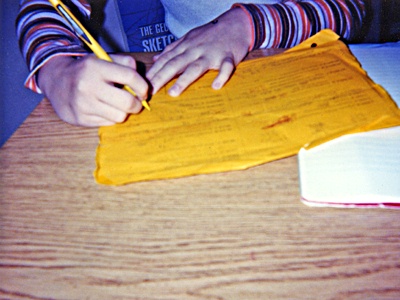 © April R., Highland Village, TX