She Will Never be Pretty
January 28, 2013
Smooth out hair. Carefully place sunglasses on head. Straighten up the belt. Check to see if there are any wrinkles on clothes. See if necklace is crooked. Make sure boots are on right. Rub at makeup. Observe.
I see the face staring back at me. I see the right nostril slightly larger than the left. I see the freckles that litter my skin. I see my hair looking windblown and uncombed. I see my thin lips. I see the small gap in between my teeth. I see my oddly shaped eyebrows, the ones that I can never get shaped just properly. I see my huge legs and my large hands. I see my pale skin. I see the blush that creeps up my cheeks as I realize that I will never be pretty.
I tug at my shirt, wondering if I should change it so it doesn't hang on me the way it did. It doesn't matter if I get a new one or not, I can't make any of them anymore flattering on me than this one. If only I had a flatter stomach or smaller hips maybe then I wouldn't look so dumpy.

I glance at the clock. 6:15. It is time to go. He'll be getting here soon. Good thing we are going to the theater. It will be dark the whole time in there…then he won't have to see how my shirt bunches up at my shoulders. He won't see the strand of hair that won't stay down no matter how much I flat iron or moose it down. What was I thinking accepting a date with the star quarterback? He's probably dated all of the cheerleading squad and then some. There is no way I can stand a chance after being compared to the other girls.

I hear the sound of gravel and a car door slamming. The doorbell rings and I hear someone answering the door. My date is here. It is time to go. One more stop before the mirror. I double check to make sure there can be no more second changes. No nothing can be fixed. I've done all I can do. I hope it is enough. I grab my purse and cell before flicking out my bedroom light and head out into the hall. I hope he won't notice that strand of hair…



I stand in the den, her younger sister chattering about her pet turtle. I nod and try to concentrate on what she's saying but my thoughts are having a hard time keeping up with the simple conversation. My palms are sweating and I keep swallowing to make sure my throat doesn't swell such from going dry. What was I thinking of asking a girl of her status to go out with me?

"Ooooh," the little sister gasps looking at the stairs, "You look so pretty!"

I turn and lose my breath. Her brown hair looks wild and curled as it hangs down her back like a mane. Her eyes glitter like pools in the sunlight and her blue shirt makes them pop in such a way it is impossible to miss them. Her body sways with each step like she is dancing her way to me, her legs long and strong and her arms slim and sturdy. Her lips curl into a half a smile and her pearly white teeth peek from behind the rose colored skin.

The little sister runs and hugs her legs, looks up at her. She smiles wider and gently pushes her sister's hair behind her ear. She doesn't worry about if her sister is messing up her outfit-like so many girls would've been-she's just thinking about her sister. I can see it in her eyes, the kindness of this girl. She is so much better than me, so out of my league.

As I watch her I realize that her sister was wrong. It is inevitably clear. This girl will never in her life be pretty.

This girl is nothing but beautiful.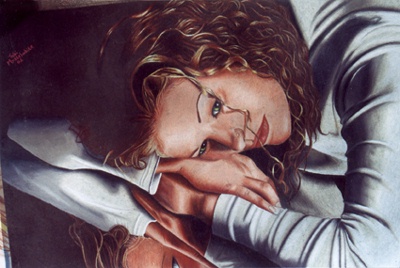 © Tabitha M., Kannapolis, NC