Miss Sally
March 28, 2013
I drove down a deserted road and watched the old settled dust rise up around me, excited to greet its new visitor.The fields on either side of me were covered in green grass and yellow daffodils. A large tree with strong, sprouting branches extended from its base with bright green leaves to adorn it like icing. I continued to travel along the road until I arrived at a lone bridge that I personally called Miss Sally. Miss Sally always provided me consolation during my many troubles and gave me a beautiful view whenever I wanted to clear my mind. In the middle of the bridge, you could see the red flowers poking out from the bushes, and white geese taking their daily bath.

This was my oasis.

And it was now my chance to forget about the divorce.

I picked up my box from the back of the convertible and carried it out to the middle of the bridge. Inside the box were my wedding pictures, my love letters from Jason, and everything else that reminded me of those five years of wasted matrimony to him. Pushing the box with all my might, I flung it into the river below Miss Sally.

Who said I was too predictable to love.

Wh said I couldn't be spontaneous without my Google calendar.

Now that you're gone, Jason, I can be as spontaneous as I want. Without you.

The spring flowers swayed in agreement as I watched the sinking photos leave me forever.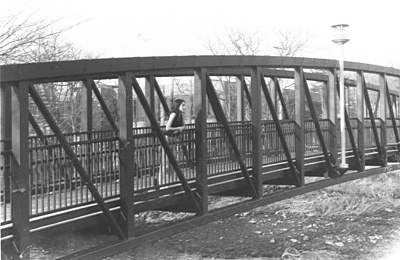 © Kim L., Milford, CT