FFF Inc.
March 28, 2013
"Miss, do you know if the girl's living quarters have iced cucumbers in their mini fridges? My Susanna cannot survive without a ready supply of cool cucumbers to cease eye inflammation," my mother said to the receptionist of Fashion Forward Females Inc. (FFF Inc.). With her $150 manicure, she gently gestured to the silhouette of my face with a soft touch. "Do you see the tightness and youth of her eyes? How beautiful . . ."

My mother smacked her two palms on the counter between her and the bored expression of the receptionist. She pointed a bony finger at the receptionist's face. "If she doesn't keep her eye regimen up, she's going to look worse than Edward from Twilight!"

The receptionist looked impassively at my mother's finger and slowly pushed it away from her face. With a dull monotone, she sighed, "Every camper will have exactly what she needs on this . . ." She rolled her eyes. "Fun adventure. If your little princess wants some iced cucumbers, she'll get them. You can find food to put all over her face in the building's cafeteria storage room." The receptionist blew her stringy, black bangs away from her eyes and turned to look back at her computer. Peeking over the counter, I could see she was staring at a picture of Robert Downey Jr. on her desktop.

My mother squinted her eyes in frustration and pulled me towards the grey couches in the lobby. "Don't worry, sweetie. If you need anything, just tell me. Hopefully, you'll have a good time here at this camp. The people seem so . . ." She looked back at the receptionist. "Unhelpful."

"Mom, I'll be fine. All I care about is that summer internship with Ralph Lauren that I'll win at the end of the summer." I sighed dreamily up at the glass ceiling of FFF Inc. and imagined my life as a fashion designer.

My mother tapped on my shoulder and I looked at her. "Honey, you don't know if your fellow campers have been designing since they were born, or if they're children of Coco Chanel herself. You never know if your competition is what you expect it to be."

"Mom. Look at my outfit." I stood up in my black Prada heels, placed my Gucci tote on the couch, and showed off my ombre maxi skirt. "This camp will be a breeze. I've got the style, the talent, the beauty." I stomped my heels on the ground, making the lobby area echo up to the sky-high ceiling. "What more could anyone else want!"

All of a sudden, masses of young women my age flooded into the FFF Inc. lobby, bringing their high-pitched chatter and crop tops with them. Since when did Vogue magazine declare crop tops in this season?

The receptionist stood up on her chair and grabbed a microphone from her desk. Speaking as clearly and loudly as she could, she said, "Everyone please pay attention. If you are all here for the FFF Inc. Fashion Boot Camp, please stay where you are. If you are not, please make your way to this counter so I can handle you quickly." No one moved.

"Okay, then. Welcome, everyone to the FFF Inc. Fashion Boot Camp. There are one hundred of you here." She muttered something under her breath. "But only one of you will be given a chance of a lifetime at the end of this summer: a summer internship with Ralph Lauren next year. Each of you will be graded on different areas of skill in designing throughout this summer. The girl with the highest grades will win the internship. Every one of your campers is your competition. They all stand in the way of getting you a head start into your dream profession. Please make your way to the counter in a single line. I'll hand you your room assignments." She began to descend down her chair before she stood back up again. "And thank you."

The quietness of the lobby immediately erupted into excited chatter again. Looking over at my mother, I smiled and hugged her. I quickly left her and joined the rest of the stylish pack of girls.

"Good luck, sweetie, and have fun!" my mother's voice called behind me.

*********

I ripped open the envelope with my room assignment. I was the last to receive my envelope, thanks to some bony girl who couldn't understand the language of "I was here first!" The basement area of FFF Inc. was adorned with a TV (not a flat-screen), computers (could almost pass for dinosaurs), soda fountain (best thing here), and a little iPad wired to the wall so we could send up requests without heading upstairs uninvited. I expected to use that thing a lot. I read my room assignment.

Room 112.

Opening the door, my eyes were first met with three fashionable girls who put the T in trendy. All of them wearing Ralph Lauren stilettos and multicolored crop tops, they turned to inspect me. Instinctively, I stood in a signature model pose.

"Um, sweetheart, where did you get those shoes? They look like something my grandmother would buy," the raven-haired girl said to me.

"And why are you carrying that old Gucci tote? Everyone's carrying Chanel." A chocolate colored girl with cute eyes gestured to her own purse.

The third girl stared disgustedly at my outfit, not even making an attempt to give me "constructive criticism."

"I'll have you know that I've got better style sense than all of you guys combined," I said.

"Who told you that? Your mother?" All the girls laughed at Raven Girl's joke. "I've been working with my mother's design company for eight years. I've created two spring lines AND a perfume. What have you done that I can't do?"

"Well, I . . ." My mind whirled with potential ideas to make me sound more impressive, but the silent girl spoke up next.

"I haven't just made three fashion lines, but I have personal connections with Drew Barrymore, Beyoncé, and Shakira. Who could you possibly know that I don't?" the girl asked, pressing her finger into my nose. I flicked it off.

"I might not know celebrities, but I own a successful fashion company that I started called Style Mania. I've already made enough money to buy my way into Harvard twice. What have you got?" Cute Eyes asked me.

They all waited for me to answer with something that would gain me their respect, but I couldn't lie under the uncomfortable heat of their gazes. "I know how to dress," I murmured to my Prada heels, wishing them to be Ralph Lauren.

"Sorry, but you don't even have that. You look like a black lamb in a field of white sheep. I'm surprised you even signed up for this." Raven Girl turned away from me and looked at the other girls. They all headed off into a corner of the room and discussed other stupid things they've done that make them stand out. I kicked one of their suitcases and sat on an unclaimed, lonely bed.

I guess those two words would soon describe me by the end of the summer.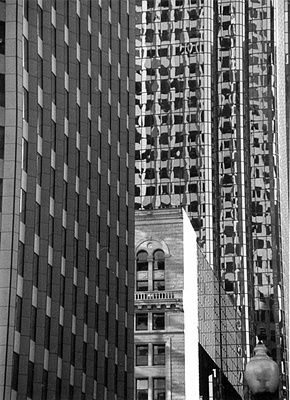 © Natalie D.,Marblehead, MA