Fire Blazing
July 16, 2013
And the fire blazed.

My eyes filled with desert sand and salty tears. We tore blindly through the crowds of people. Mother clenched my hand in hers and weaved us silently through the turmoil. Everywhere we turned, an angry face bore down on us, yelling at us and kicking us, cursing and trying to grab at mother's rags. She shielded me well enough, and she received most of the abuse. Still, I did receive a swift kick in the ribs, which we later found out had cracked two.

By the time we had reached the edge of the packed clearing, I was panting and my chest burned. We ducked behind one of the small huts on the outskirts of the square, and mother curled up on the ground with me in her lap.

We sat in a narrow alley, placed between two huts. The shadows cast by our shelter engulfed us, so that the only light we received was from the crack that led out into the square. The sounds around us were muffled, and the only thing I could hear clearly was mother's harsh breathing. There might have been other sounds-like bodies shuffling away from us deeper in to the alley- and two frightened pairs of eyes, but I was too distracted to pay much attention.

"Mother," I whispered," where are we?"

"Shh, shhh, Yaman."

She held my head and began to rock me.

"Go to sleep. I'll tell you in the morning."

Mother closed her eyes and began to hum my lullaby, and I settled down into her chest.

The rocking subsided as she dozed off, but my eyes remained open. There were too many questions, and too much fear.

"Go to sleep, Yaman," mother whispered in her sleep.

The flames leaping from the clearing danced in my eyes as I closed them, and the ringing of gun shots in the distance came to my ears as I drifted into dreamless sleep…


And the fired blazed.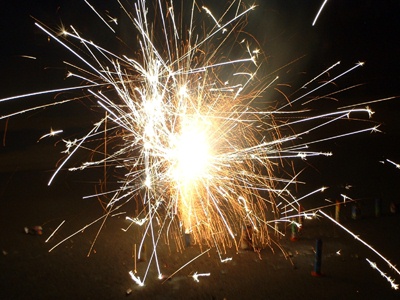 © Kevan B., Beaverton, OR