Stop
MAG
August 17, 2013
Stop.

I hear it all the time. Sometimes it's in a yell from my little brother, when I step on his toys again; it always comes with a weary sigh from my mother, if I ask her where Dad is; or just a silent visual, a red octagon-shaped piece of metal, posted where one street meets the next. It can be a command, a plea, even a joke – a four-letter expression with the power of the world.

Yet I'm a coward. Over-considerate, always eager to please. This one-syllable word, a staple of any two-year-old's vocabulary, has never once passed my lips.

Why tell a person to stop? I don't want to hurt anyone's feelings, don't want to seem bossy, don't want to walk over someone the way I've been walked over my entire life. I guess I've learned this from my dad – it's always better to walk away from problems than to face them. Always better to concede, to let someone else win, than to force my own opinion.

I know I'm wrong in not ever setting boundaries. The pain is a cold pit in my stomach on the way to school each day – I know what's waiting for me there. It's the boys, the ones who have never been told to stop by anyone, let alone me.

I was only in kindergarten when Garrett first took my Play-Doh and I didn't ask for it back. Then it was taking my food at lunch, taking my spot next to my friends, taking my backpack on the way home and throwing it on the ground and running over my books with their skateboards. It was taking my self-esteem, my pride and, eventually, my innocence. It was taking everything I possibly had to give. And I never said it. I can't say it. So they don't stop.

Some of the nicer ones take pity on me. They'll nudge me, call me Helen Keller with a grin. They don't realize that I do have thoughts. I have strong opinions, and surprisingly, I have vocal cords to voice them with. It's just not worth it.

But yesterday I realized something. I'm wrong. For I did once say "stop," thirteen long years ago, when I was chubby-cheeked and bright-eyed and wore flowery dresses and sparkly hair clips. It was a dark night, and I stood in the front doorway of my house, clutching my teddy bear, my eyes clouded with sleep. I screamed it with all my heart, every fiber of my being. And then the word echoed away from the safety of my house and out into the night, where I watched the family car speeding out of our driveway, and with it, my father.

He never came back. And neither has the security I once felt in myself, the belief that my words mattered and that if I told someone to stop, they would listen. When I was a toddler, I had neverending faith in the word. But when you grow up, some things stop.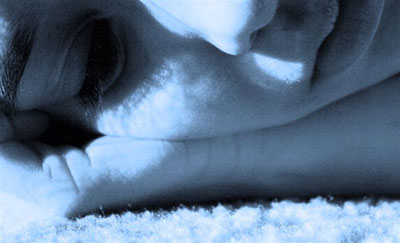 © Paula B., Katy, TX