The Iron
November 5, 2013
"Shoot!" I yell out to no one. I mumble some swears to the iron. That stupid thing! I gag on the taste of hairspray that fills the small room.
"Ohh, that stuff is nasty." I glare down at the burns on my hands. Oh, the things I do!
"Thirty dollars for a wand my butt..." I continue this little rant...and continue curling away.

Why do I do this? Do I really need curly hair? I keep telling myself yes.

The video of the girl burning her hair off is just sitting right in the front of my mind!
"Don't hold it too long, don't hold it too long..." I pull the iron off.
"Owwww! You're kidding me, you stupid murder device!!" I clamped the iron on my finger.
"Trying to eat my finger!" I throw the iron onto the floor, turn on the cold water and soak my finger.
"C'mon hair, curl." I spray some more hairspray on my locks.
"Touchable, feel. Sure, my hair is crusty-er than Yo Mama's feet."

The whole process is exhausting, I'll just be glad when my girlfriend picks me up. I really don't know why my hair has to be curled. I mean, girls with curly hair want straight hair. Girls with brown hair want blonde hair and girls with blonde want brown.

Bringgg... the phone was ringing. I put down the iron and thought "man I'm never gonna have enough time to get ready..."
"Hello?"
"Annalea??"
"Yes..."
"It's Kiesha. Sorry, I have to cancel.
"Really, cuz-"
"No I mean I can't go."
"Oh okay I'll find something else to do." I hung up the phone.

After I stomped off into the bathroom, I unplugged the iron and threw it into the trash.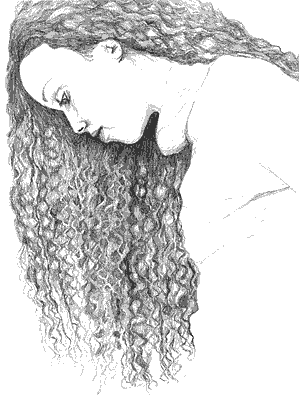 © Andrea S., Oakhurst, CA