Moon Snails
January 15, 2014
The hurricane had passed, and the beach behind our house was littered with shells and kelp. My dad took us down to the beach in the afternoon, to go beach-combing. We began to walk the shore, the sand damp and salty, but the air was warm and the sun parching.

We found a nice spot at the tip of a sandbar to eat lunch. We laid out the coolest finds on a towel. There was one dead fish, which Dad said to throw into the water for the seagulls. We also had a couple of scallops, a hermit crab which scuttled off the blanket, and a clam shell with a hole in it.

Dad said that the shell was regular, but the hole was caused by a moon snail. He said, in the voice he uses to tell ghost stories, that the moon snail hunted around during a hurricane for prey that was throne ashore. It would dig through the shell and suck the innards out of its prey, leaving a little shell with a small hole in the top behind.

After our lunch, we went swimming. My younger brother, 7 jumped of the sandbar, and into the water, creating a huge splash that soaked dad. Dad said no more jumping. After a half hour of swimming, dad was about to call my younger brother, Sam, back to shore when Sam shrieked.

Dad threw off his shirt and rushed into the water, but found Sam completely fine. He was confused for a second, but then saw what Sam was looking at, under the water.

It was the bloated dead body of a middle aged man. If you looked closely, you could tell that his bones and muscles and innards were gone. He was hollow. And if you looked even closer, you could see a minuscule hole in the top of his head.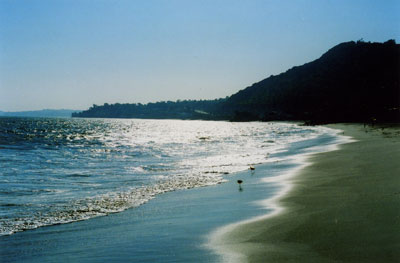 © Adam L., Washington, DC