Push- CH. 1
January 31, 2014
Ch 1.
Danny hated the sounds hospitals emitted. "It's like they're already planning everyone's goddamn funeral. It's too goddamn quiet." He would say, rolling his eyes and scuffing his foot against the linoleum. But hospitals become a demon of a second home when your father has pancreatic cancer. It's as if it's your only home in those last few months.
Funny thing is, your own home isn't even yours anymore when everyone's lives move on but your own. Danny thought this many times. He thought this when his mother told him she was getting engaged to her boyfriend and married, two years after the death of Danny's father. He thought this when he packed up the last of his things and said goodbye to his childhood home. He thought this as the open fields and blue skies disappeared from his daily life; replaced by ominous, overbearing steel buildings that reached to the clouds. He thought this still as he lugged his suitcase across the cobblestone that lead to a 45 story apartment building.
As Danny approached the door, it sprung open. A portly, red-faced man stood in the entryway, slightly out of breath. He was outfitted in a pair of too tight black slacks and a blue vest the buttons straining at his gut. Perched on his balding head was a matching blue beret.
Danny snorted and turned to his mother. "Are you f*ing kidding me, Lisa?" Behind him, one small bag clasped in her manicured hand came tottering Danny's mother. Her four-inch heels kept slipping between the cracks of cobblestone.

"Daniel Marcus! Watch your language! And I have told you time and time again, I'm mom not Lisa!" She placed one hand on her hip and glared at Danny.

My name is Danny, not Daniel he thought. Just as Danny opened his mouth to retort, a large hand landed harshly on Danny's shoulder.

"Now Daniel, listen to your mother." Stan chided, his fingers digging into Danny's shoulder. Danny wriggled his way out of Stan's grip, silently cursing him.

"Stannypoo!" Shrieked Lisa, dropping her only bag and tripping her way into her husbands outstretched arms. As Lisa and Stan engaged in a disgustingly public slobbery kiss, Danny ducked into the lobby of the apartment building gagging.

Shortly after Lisa came into the lobby, positively beaming. Behind her, dragging Lisa's enormous suitcase came Stan. Slightly winded, he stopped at the elevator bank.

"So Daniel," Stan began, attempting to fill the silence as they awaited the elevator, "are you excited for your first day at Carmelo Academy? I hear the dean is very excited to have a soccer player of your caliber!"

"Ecstatic." Danny replied, sarcasm dripping from his voice.
"I went to Carmelo myself." Boasted Stan, as they all shuffled into the elevator, "Such a wonderful school. It really turns you into a man. Makes you toughen up! Pembrook doesn't deal with those prissy, typical metro sexual teenage boys private schools breed."

With that Stan looked scathingly across at Danny. He was wearing a pale blue collared shirt, the sleeves rolled up to his elbows. His khaki shorts were matched with a pair of dark brown loafers.

"Oh Stan! Leave little Daniel alone. My boy just likes to dress nice." With that Lisa reached a hand over and ruffled Danny's dark hair. As Danny jerked away from his mother's hand, a ding echoed through the elevator and Danny escaped onto the 45th floor.

"Oh Stan, I can't believe we live in the penthouse." Lisa gushed, batting her eyelashes admiringly up at Stan.
"Anything for my queen." Smirked Stan, as he wheeled Lisa's suitcases into the master bedroom. With a girlish giggle, Lisa dashed after him.

"Your room is the first door on the left!" Bellowed Stan before he slammed the doors to the master bedroom shut.
Danny turned a full circle in the apartment. He could tell instantly his mother had picked out the décor. Furnished with earthy tones and limited furniture, Lisa had taken advice from her feng shui consultant, whatever the f*** that was, Danny thought.

Venturing down the hallway, Danny saw a sickening amount of wedding photos lining the walls. His mothers tan just a little too orange and Stan's teeth a blinding shade of white. Danny chuckled as he saw the only photo of him was one of all the groomsmen. They were just like any other newlywed couple, almost.

"First door on the left." Mumbled Danny to himself as he pushed open the door to his new bedroom. He let his suitcase drop to the floor and stared around.
For the first time in what seemed like days, Danny smiled. His room was… for the lack of a better word: sweet. Decked out with a large flat screen TV and a high-end stereo system; Danny knew instantly he would be hooking up his Xbox. His bed was large and the insignia of his favorite soccer team was splashed across the comforter. There were several large rectangular windows. One looked out on the city, the hustle and bustle of the busy streets right beneath. Street vendors and shoppers, city dwellers and tourists all rushing about. The other was facing a park, smack dab in the middle of the city. It was a nice surprise for Danny, who had become used to the lush rural environment he grew up in.
Upon further inspection of his room, Danny found that the window facing the park opened up onto a balcony. He stepped out onto the balcony and was greeted with unfamiliar city sounds. The taxi's whipped around corners, their horns blasting every few seconds. He could see men and women jabbering on their cell phones, oblivious to the chaos around. Children played aimlessly in the park, enjoying those last fleeting days of summer. Popsicles melted, phones died, taxis sped along, and everyone's life moved on in a whirlwind.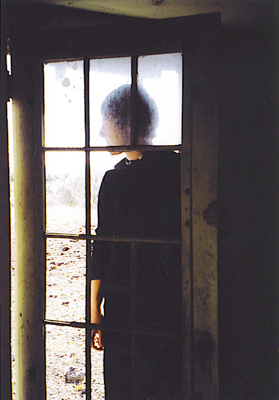 © Lindsay S., Billings, MT