Kiss It All Better
February 14, 2014
He sat in his cell, staring at the cold cement floor. Why did he do it? He was completely driven mad. He didn't even have control over himself. The gun still felt hot in his palm, even though his hand was now empty. He didn't mean to hurt anyone, not really. Laying back on the hard mattress, he pulled the blanket over himself and sighed shakily.

"Charlotte? Charlotte?!" Evan Peters and his fiancee, Charlotte, had agreed to meet at the corner of Kale Avenue at ten o'clock. The problem was, she wasn't here. He'd been waiting for fifteen minutes. Worry overtook all of his senses and he looked around, looking for her. She wasn't the type of person to be late.

Evan peaked around an alley, staring down the deep path. He saw a crumpled figure on the black bricks and dreaded what he would find if he walked towards it. Still, he went to it anyway. The musty smell of the rotting alleyway made him feel sick, but he felt even sicker after he saw the face of the torn victim.

"Charlotte!" he dropped down beside her, sliding her into his lap and holding her in his arms. Hot tears slipped down his cheeks. She groaned in pain, her eyes fluttering open. A bullet wound was visible in her side right by her ribcage. Her blue eyes had faded to a stormy grey color, lacking its usual finesse. Her skin was like porcelain, smooth and cold like a doll's. Her glossy blonde hair looked white in the dark lighting of the alley. She seemed limp, too, like she could fall apart in his arms at any given moment.

"Evan...I didn't know...I…" Charlotte stuttered, tripping over her own words. He heard splashes of puddles around the corner and looked up. She'd been shot and there was nothing he could do about it now. He didn't know what to do without her, she was the center of his life. She was the one who organized their dates and cooked and planned when and where to be at what time and who they would be meeting.

Charlotte's head lolled back, her hair splashing into a puddle. She let out a soft sigh. Her whole entire body went limp, the blood of her side sinking into Evan's jacket sleeve. He leaned over her and screamed, kissing her all over her face. He held her close and sobbed, his tears falling into her golden hair.

After several minutes of holding her and shaking, Evan laid her gently against the wall and pushed her hair back, kissing her forehead. He called the police and sat next to her. As he was sitting down against the musty bricks, he heard another splosh around the corner. Getting up and sprinting, he ran into someone with a gun. Evan was given an instant adrenaline rush, pulling the gun from the other man's hand and pushing him up against the wall, punching him several times.

"You killed her, didn't you?" he screamed at the man. The man had on a nice suit with slicked back brown hair, given off the appearance of a lawyer. He nodded slowly, tears falling down his rosy cheeks. It was clear that he was in regret now that his own life was flashing before his eyes.

Just as a policeman yelled, Evan pulled the trigger. He didn't even watch to see where the bullet had landed, but he knew it had met its target and killed it. He fell to his knees, crying out. He wrapped his arms around himself and shuddered. The police busted him, making him end up right where he was now. In jail. Evan thought about Charlotte every day for the next 10 years from then on. He never truly forgot her or the man that held so much regret in his eyes.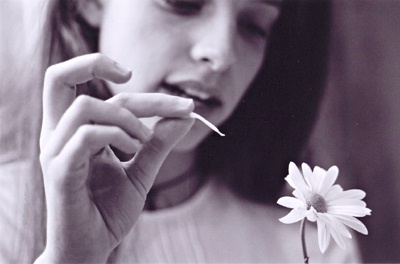 © Emily B., Houston, TX