The Keys
February 16, 2014
There is a weak knock on the door.

She is calling her name. Not a holler. Rather a deep groan.

"Dorothy…"

It repeats but Dorothy doesn't get up. She lies straight on her bed, face burning, an arm stretched towards the left, feeling the place where he is supposed to be, her brows bracing together tightly.

The air-con has automatically turned off, just like it did every seven o'clock in the morning. She hasn't gotten up yet – to urinate, or to turn on the fan – so her face is sticky with sweat.

She clutches the blanket that covers half of her body.

"Dorothy," the voice groans louder, and longer, but shakily; its tone edged in pain as if the one to whom it belongs is about to cry.

"Dorothy, wake up! Please open the door!"

Rap, rap, rap!

The voice didn't wake up Dorothy; Dorothy has been awake even before the old woman left to buy pandesal. Dorothy heard the door open then close as quietly as possible, knowing the old woman didn't want to disturb her slumber. But what is she doing now? Dorothy thinks. She has locked herself out and is imploring for me to let her in?

It was accidental.

She didn't mean it. Old minds have a way of forgetting things. She forgot to bring the key.

Rap, rap, rap!

Dorothy can picture the old woman's face turning red, embarrassed from the neighbors— for having to wake up her daughter because she's forgotten the keys.

"Dorothy!"

The more the voice tires and weakens, the more it roars in Dorothy's mind. She feels her breathing grow heavier; each time she hears her name called, she remembers something that the old woman did which annoyed her:

"Dorothy!"

You use too much water when taking a bath.

"Doro... (breathes) theeh!"

You watch sit around too much, watching worthless prime-time soap operas.

"Dorothy..."

You need too much supplementation and medication.

"Doro..." the voice trails off, finally accepting defeat.

I can manage the money for the bills, Dorothy has always told herself, because she can. But the thing is the old woman lives with her and her family.

The fact is her husband was the one who couldn't stand the old woman anymore. He left for the province, only yesterday, forced their child to come with him, and they won't come back till she kicks out the old woman.

"What's wrong with you? Send her to a care center!"

That's what he said.

Screams and broken glasses.

Dorothy pulls at her hair and sits up. She let out a piercing cry. At least, in her mind it was piercing.

"It's not right to get rid of one's mother, Jude."

It would be like killing her.

She can't do that.

Dorothy scratches her face, feeling the drops of tears that fall down her cheeks. What to do? If she does her husband's request, oh! – but what would its implication be on Will if she executes such a vile act? What if one day she becomes like the old woman, windowed and lonely, and end up with nowhere to go but to live with her only son? and what if Will decides to have a family?

But on the other hand, she also can't stand the thought of a broken family.

Dorothy tries to calm herself and hears the voice of Lani, their nosy neighbor, asking the old woman if everything is alright.

As if that's what she wants to know. She doesn't care for the old woman. All she cares about is to feed her ever curious brain. She only needs to know.

"Yes," the old woman lies, "everything is fine. Dorothy will wake up soon. I'll just wait for her. Oh there she is! I told you. Doro—''

At the sight of the fuming daughter, Lani leaves. Dorothy is standing in the balcony, glaring down at her mother. She is an eagle hovering over a sparrow. The old woman looks so pathetic to her. Why won't God take the old woman home? Wouldn't the old woman be more joyous in heaven?

"Dorothy, I…"

A harsh tinkle cuts the old woman's sentence.

Dorothy goes back into the house and doesn't come back out.

The old woman grips the plastic bag of pandesal in her hands, hard, and ending up hugging it as tears swell up her eyes. On the sidewalk, on the cold cement, with the car key, and the gate key, and the whatever-else keys—

lies the key to the front door.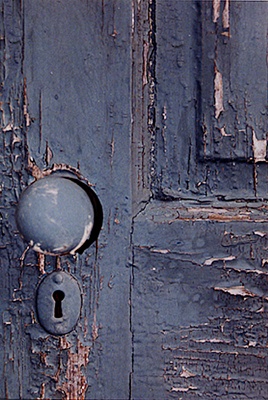 © Samantha H., Savannah, GA