Carrot Soup
MAG
February 24, 2014
Her name was Alice, and instead of talking with humans, she made friends with objects in her apartment. She shared one-sided conversations with a glass canning jar, sometimes filling it with water to drink as they talked. There was a particular paper clip that she kept in the same spot on her desk and greeted each morning. A blue pillow on her couch and the aloe plant she tried to tell herself was still alive kept her company as well. She had given each of her inanimate friends a voice and made up their replies to her questions. She chatted contentedly with them, changing her voice from one to the other.
Every morning she got up early and made herself oatmeal in a yellow mug that fit perfectly in her hands. Together they sang soft morning songs as she ate. After washing the dishes she would dress and talk to her toothbrush, her voice muffled by its bristles as she brushed. Sometimes they discussed the weather or the news, her plans for the day, or what to make for dinner. She found that the toothbrush always advised her well.
Her life had a schedule that she wrote down on a yellow legal pad with a pen whom she found especially easy to talk to. She worked at her desk writing instruction manuals for the assembly of household appliances. She liked the work, mainly because she could do it from home. She liked the idea of her words being read by so many people, and because she had discovered that they were not edited, she sometimes snuck in little notes to whoever bought the appliances.
At four o'clock she snacked while reading a book, and after that she swept the floors and cleaned the windows before starting dinner, which was usually a sandwich eaten in front of a movie. Often the movie was one she had watched so many times she could recite every word. Sometimes she would say just the lines of one character, feeling as though she was conversing with the other people.
She only ventured outside the walls of her apartment to buy groceries, and then she kept her eyes glued downward and her lips sealed, never making polite conversation, even with the friendliest of cashiers. She went about hoping not to be noticed, to mix invisibly into the blend of walking feet and swinging hair. After these brief ventures out, the apartment always felt wonderfully warm and comforting. Sometimes when she got home, she would sit in silence for hours on the couch.
One day her phone rang. The noise jolted Alice, interrupting a conversation she was having with her aloe plant. She let it ring. She continued discussing a book that she'd read and, after recommending it to the plant, left it lying open on the windowsill so the aloe could read. The couch pillow squashed behind Alice's back felt rather excluded, as it had read the book one day when it had been left, pages open, on the couch. The pillow tried to interject muffled opinions in a high-pitched voice that grew more and more like Alice's the more excited it got.
"But love!" it screamed. "She gave up love."
The voice grew louder in an attempt to drown out the phone's ringing. "She was too frightened of what might happen to think about the possibilities of what could have been."
Soon the voice had given up any pretense of belonging to the pillow. It was Alice's voice now, and as it rang out, hollow in the room, she realized the emptiness around her. She leaned back hard against the pillow, as if to smother it and stared at the aloe. It was the single living – or once living – thing in the apartment, aside from herself and the foggy mold creeping around a block of cheese in the fridge.
She sat hunched and crying, and fell asleep slumped on the floor, the pillow clutched to her chest.
The pillow followed her into her dreams. It ran weirdly forward, proffering a hand. When she turned to run, her foot landed on something small and soft. She lifted it to see a frog smashed and bloodied on the pavement. Her bare feet tingled with the feeling of it between her toes. Her face was wet and there was something she had forgotten to do. She looked at the pillow, who gingerly picked up a pair of the frog's ribs and began wrapping them tightly together with a piece of string. She waited, wondering what she had forgotten. It was something very important, something she needed. She was sure of that.
Quietly, the two bones morphed into a table with candles and glasses of wine and bowls of carrot soup. "Yes, I would love to have dinner with you," said the pillow, who was now a man in a suit. "Thank you very much for asking." Then he began to scream over and over until Alice awoke and picked up the ringing telephone.
"Hello?" she coughed.
"Hello," said a male monotone. "I'm calling to tell you about a great new deal you can get because of your credit scores."
"I think," whispered Alice. "I think I'm supposed to ask you … would you come to my house tomorrow for dinner?" There was no answer. Only breathing assured her that there was still someone on the other end of the call. "I believe I'll make carrot soup."
"Excuse me–"
She cut him off. "Do you have a pen?" She dictated her address and then added, for good measure, "If you come, I'll buy whatever it is you're selling." Her finger shook as she pressed the little red button that said "End."
She spent the next day learning to make carrot soup. She grated ginger, the juice dripping down her arms and running off her elbows in a spicy stream. While looking for a mixing bowl, she unearthed an ancient bag of coconut in the bottom of a cupboard. She tried recipe after recipe, sipping tastes and conversing with her glass jar.
Cooking for other people was foreign to her, and she wasn't accustomed to following recipes. The teaspoon measure managed to evade her and the tablespoon was missing its handle. Three pots boiled on the stove, all with different attempts at the perfect flavor. She brought her pillow in from the living room and held it over the soups so that the steamy aroma could soak into its woven skin. One smelled slightly burned and another had an odd color. Together they decided that although the coconut tasted slightly like the bottom of a cupboard, its flavor was the most delicious when mixed with the carrots. She hid the other attempts in the fridge and ran to her room to get dressed.
The bed favored a simple black dress, but her stick of deodorant preferred a flowered skirt. They argued for a while, voices rising, until Alice was in nervous giggles on the floor. In the end, she went with the bed, thinking it was the more tasteful of the two. Later she would bake the deodorant some cookies to make up for her snub.
The soup went into her nicest bowls, and she set them on the table along with candles and glasses of wine. Then she tucked her hair behind her ears, slipped off her socks and pushed them under the couch in a pretense of cleanliness. She walked around the kitchen and pinched herself every time she glanced at the clock.
He was late. Quite late. She considered curling up on the floor and letting her tears soak the carpet. She knew he wouldn't come, but there was still the possibility.
At nine o'clock she poured the soup down the drain and the wine into her own mouth. The two bowls lay empty and forgotten in the sink as she fell into a mess of blankets, fully clothed. She did not dream, but woke often, hands clammy and feet constricted in angry sheets.
At ten the next morning she pulled herself from bed and stumbled to the couch to retrieve her hidden socks, which she slid, inside out, onto her feet. She retrieved one of the rejected soups from the fridge and ate it cold, sitting on the kitchen floor. She poured a little into the aloe plant in an effort to revive it.
The sun streamed through the window, twining around the stem of an empty wine glass and illuminating the burgundy puddle at the bottom. She looked at the aloe's withered shoots and the soup turning a dry dirt orange. Unthinking, she took the potted plant in her hands and – confidence filling her chest with unaccustomed strength – threw it down on the cold linoleum, where it broke into shards of red clay and black dirt. She sat down among the mess, next to crumpled leaves and jagged edges, to think.
The phone rang and she picked it up. "Hi, I'm Rachel," said the voice. "Do you have student loans? If so, I can help–"
"Wait," Alice said.
The voice stuttered to a stop.
Alice gathered her courage into a warm ball in her throat, and, with a gulp of air, blurted into the static of the woman's breath, "Do you like carrot soup?"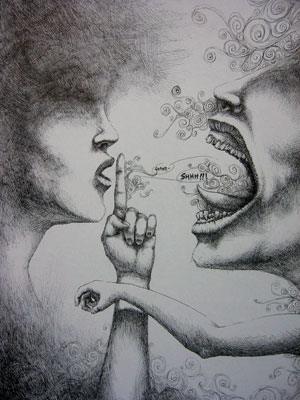 © Andrew M., Apple Valley, MN