Writer's Block
April 22, 2014
I sat there with a blank, empty page in front of me, trying desperately to think of something meaningful to write, something powerful that people would remember. Something my Dad said came to mind: 'the easiest way to create is to think of something you can relate to.' I wrote the fourteen words wistfully on my blank sheet of paper and then stopped. I peered around my room, looking for some spark, some sort of inspiration. My old hoard of teddies glared down at me from on top of my wardrobe, abandoned there since I'd stopped using them. I thought about writing about all my extreme adventures with my teddies. I started writing: 'I can relate to having some pretty mad adventures with my old teddy bears. Several of them often went swimming long strokes of the pond in front of my house, others traipsed through the parks' intrepid No Man's Land and most were hurled down the stairs on a parachuting trip of a lifetime.' I wrote it down and then sighed. It sounded so babyish and immature; like I was still some pathetic toddler or that I was this lame loser fixating on the past. I turned the page over in my notebook.
I gazed around my room again and my eyes settled on my stylish, ebony dressing table. I had lots of posh, grown-up make-up cases on it and glitzy jewellery hung from its' hooks. I sighed. No amount of make-up could truly change me, I thought. I went over to my mirror and squinted at myself nevertheless, pouting and pressing and applying to see if it made any difference. It didn't. I looked stupid and wiped every single smear of the make-up off and then tried striking poses to see if I looked any better. I wore my hair in a spiky ponytail, but I had limp mousy brown hair and a cute fringe, so I looked like a little girl messing about. I so longed to have bright, wild ginger hair, so much so that I wouldn't care if I was called names like 'Ginger Minger' or 'Chloe Carrot' or some other spin-off of my name, if only I could express my wild energy and just finally be free. My clothes didn't help. My black shirt showed I had quite a large stomach, bluey-grey jeans emphasized my thighs and my grubby Converse trainers were nothing to be proud of.
I stopped gawping at myself in the mirror and remembered my writing. I smiled; at least my ugliness gave me something to write about. I printed Dad's fourteen words again and then added: 'I can relate to feeling ugly, feeling like when I look in the mirror, I see something that shouldn't be there, somebody that just isn't me. I know I'm lucky in many different ways, but I can't help wishing for something more than that. I can't help wishing for bright ginger hair in a punky afro and brand new turquoise sneakers and up-market jeans with an artistic rip in them. I can't help wishing I could fit into a slimming top with a picture of a mouth with a tongue sticking out hiding beneath a grey, casual hoodie that all my friends envied. I want to be me.' I stared at my writing when I'd finished. I sounded like a soppy nobody wallowing in self-pity. People would say that I was pretty and would make me feel guilty. I just knew it. I crumpled the last two pages. What was wrong with me? Usually, writing came to me as easily as anything, but now everything I wrote was silly or self-centred and that wasn't my thing. I decided to give it one last try.
I stared around my room for quite some time. I drummed my fingers on my writing desk, made a tower of pens, styled my hair a million different styles, but nothing came to mind. I got SO bored. I decided to text my friend, Zoe, for advice, 'Hey Zo :( I'm totally stuck with my writing, don't know what's wrong with me :P' Zoe replied quickly: 'Oh God, Chloe. I'll come over and knock some sense in2 u.'
A few minutes later, Zoe arrived. I let her in and we went upstairs to my bedroom. "So, why do you need to 'knock some sense into me'?" I asked her, confused. She shook her head.
"Because," She enunciated the word clearly as if I were deaf and rolled her eyes, "You're clearly making a big deal out of nothing worth worrying about," I hated Zoe sometimes. She acted like she knew everything, when she was actually a month or two younger than me.
"It is a big deal. Look," I passed her my two crumpled pieces of paper and smoothed them out. She read both of them, "It's all I could come up with," I sighed, but that made her sigh.
"Honestly, Chloe. These are great. This one," She waved the teddy writing about, "is really inventive and clever; you just need to expand on it. It's a really cute piece,"
"I don't want cute, I want something noticeable, Zoe," I argued and she rolled her eyes again.
"You're only thirteen, chill, OK? Anyway, this one," She waved the other one about, "is heartfelt and honest. It doesn't drone on and on about poor, little me and instead it kind of touches the reader in a way only you can." I smiled at her, remembering why we were friends.
"Thanks, Zoe," I began, "But it still isn't really great. And I can't think straight and get a proper story together. I had to really focus and use the things around me to think up something to write. That's not me."
"Don't worry so, Chloe," Zoe suddenly turned comforting and gave me a big hug, "You've just got writer's block. It's where you can still write but you can't get your ideas together. It happens to loads of major authors. You'll get over it soon, don't worry."
I did get over it after a little while. I had to do loads of reading and talking and researching to get back into the swing of writing, but eventually I did. I wrote many stories and then – then my Dad died. I was so hurt and I didn't really ever get over it. So I wrote this article – this very article for him. It's all about me getting writer's block and being inspired by Dad's fourteen words. I realized, when he died, how much Dad really did help me and inspire me with the things he said. So, this is for you, Dad: only the forgotten are truly dead, so you will never die. Rest In Peace.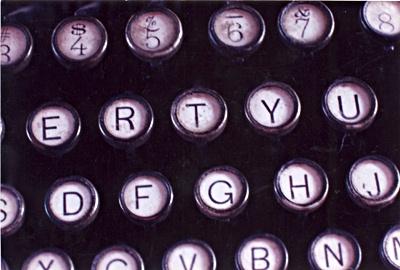 © Mary A., Fullerton, CA