A little rain...
May 9, 2014
I was only a little girl when my grandfather first brought me to the creek. We stood hand-in-hand, staring into the murky water. I looked up at him and told him I couldn't see anything. He chuckled, a large smile spread across his wrinkled face, eyes beaming with wisdom.
"Just you wait," he told me, "the rain will make the river clear again." So I did. Moments later, ripples started forming on the surface of the creek. They expanded, pushing away the dark green foam, and settled the sand that was carried with the current. It was almost as if the creek was cleared by magic instead of the rain. Even the once hidden tadpoles came out to play, nipping at newly formed bubbles. My eyes grew wide in excitement as I hurried to greet the creek and dip my feet into its cool waters. The tadpoles turned their attention to my feet and pushed their tiny bodies against the current, as their feather-like nibbles tickled my feet. But, the rain started to saturate my sundress, hair and skin, and I got a little worried. I knew I wouldn't last long if I got wet, so I turned back to my grandfather and asked if he could stop it.

"Don't you worry child, a little rain won't bother you. Besides, after the rain, the river will become filthy again," he said. I turned back to the creek, letting the rain wash away my worries.

A few years later, my grandfather brought me back to the same creek. We were both dressed in black from my grandmother's funeral. Just like the air that hung between the two of us, the creek was just as gloomy. Staring at the familiar waters, tears as cold as ice ran down my cheeks.
"You shouldn't cry," my grandfather said, interrupting the stillness between us, "you're making your grandmother cry."
Rain started to fall, as if he silently commanded it. I couldn't believe it. The last time I was here, it eerily rained after he spoke. But instead of questioning him, I tilted my head up, letting the rain rinse away my tears.
"Alison, look," he spoke. I inclined my head to look back at the creek. It cleared up just like it did back then when he first brought me here. I turned to my grandfather who now had a mischievous glint in his old eyes. I shook my head and smiled. I half-heartedly told him that we can't get wet, that we still have to go to the dinner. He chuckled.

"A little rain won't bother them. What they don't know won't hurt them," he said.

That was the last time my grandfather and I were at the creek together. I am now a grown woman with a family, a job, and a home of my own. On my way home from work, I decided to stop by that creek that my grandfather brought me to so often. He passed away a year after my grandmother and his last request for me was to visit this creek. I haven't had time until now. I took off my heels and went down to the creek bank. Broken glass, plastic, paper and other debris were scatted all over from the years of neglect, and the creek was once again covered with the dark green foam. I was disappointed by the scene of the dirty creek and I spun around and started back towards my car.

Until it started raining.

I smiled as I remembered what my grandfather told me over and over again. I pulled my hair from its bun that rested on the top of my head and I quickly threw my blazer in my car. I turned back to the creek.

The trash was gone.

The foam was gone.

The creek was clean once more.

I dashed over and stepped into the creek until I was fully in the ankle deep water. I stood still, only listening to the sounds of the rain hitting the creek and the rushing water.

My grandfather must be here today.

Because a little rain never bothered me.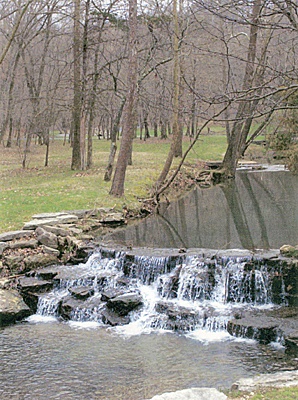 © Tyler B., Luther, OK