The Minute After
May 27, 2014
"Let's clear the room. Patient's time of death is 1:03 P.M." uttered the grief-stricken surgeon to his ER staff as they surrounded the operation table of their first loss in over two weeks. Time after time, in these moments, no one could ever find the courage to speak. What was typically a room full of lively personalities and leisure back-and-forth conversations about each other's weekends, children, or simple lunch break ideas, always fell into mournful silence in the face of death. With sorrow settling over the room, the surgeon's trio of assistants carried out their final tasks at half pace as he removed his blood-stained gloves and prepared to fulfill his most difficult responsibility of all; informing the patient's family.

Amidst the worry lies the one person with none; the lifeless man atop the surgical table. In an instant, seventy-seven long, purposeful years of life came to an end. Fifty-five years a husband; fifty-two years a father; nineteen years a grandfather; and eight years a cancer patient. At 1:04 P.M., he was no longer any of these.

In reality, at 1:04, the world carried on. Women in labor on the third floor prepared to usher new lives into existence as people around the world went on with their daily routines. Just outside the hospital walls, the hustle and bustle of urban American life raged on as well. Traffic jams stretched for miles along the interstate as frustrated drivers clinched their wheels and impatiently inched ahead riding the bumpers of one another. Everyone was in a rush; everyone was in a hurry.

Around the city, people buzzed about wandering to-and-fro concerned only with their endless agenda and tight schedules. Along the way, headphones drowned out the relentless clamor of cars zooming by, conversations of others, but most importantly, the sounds of the world. Cell phones in-hand kept everyone preoccupied; engulfed by their latest Instagram notifications, compelled to update their Facebook status or open recent Snapchat stories. At a glance, not a soul wanted to be bothered or interrupted, only left alone in a reality of their own where each person is slightly busier than the next.

As his body lie still and unanimated on the tabletop, the old man's spirit drifted into eternity at 1:04 carrying none of the worries or concerns which blinded those scurrying the streets from seeing life as the beautiful and wondrous gift that it is. In his seventy-seven years, the old man revered life and cherished his relationships amongst those he loved more so than life itself. In the days leading to what would become his last, he often found himself overwhelmed; panicking over thoughts of death, eternity, and ultimately what await him on the other side. Yet, all of this ceased in the minute after; the first minute in which eternity began. To his pleasant surprise, what he found at 1:04 was an indescribable peace; an incredible and undeserving feeling of joy and utter bliss accompanied by a mysterious sense of accomplishment. Ascending from his cold, withered frame, his spirit entered the everlasting with sheer excitement and anticipation of what was to come in the boundlessness which was the afterlife.

Finding our lives to be an unending frenzy of tasks, responsibilities, and obligations is becoming more and more common with each day that passes. As these days go by, it grows easier to lose ourselves in the superficial agendas and schedules that keep us on track and give our lives a sense of order. Yet through it all, we cannot lose sight of the elements of life which exceed any price: love, family, and humanity. Too often we isolate ourselves in a rushing world of technology where nothing can happen soon or fast enough, creating a sense of urgency in every area of our lives except where it matters most. Like the old man, we are all nearing our minute after with each second that goes by and for each of us our last day will inevitably arrive. And while we cannot tame or predict the course of life, only we have control over what we take away from it. With this in mind, what will you take into your first minute of eternity; the minute after?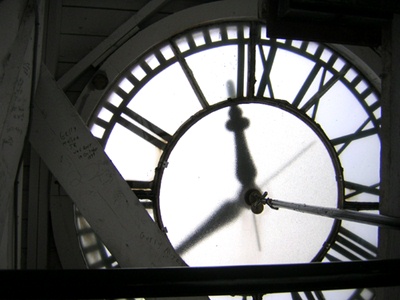 © Tatyana Z., Norwood, MA