Shattered Hero
September 6, 2014
You always hear the hero's story once it's over, once the evil is vanquished and the world rebuilt. Historians will write it in textbooks, poets will write epics of deeds of bravery. You don't see the hero before he's a hero. You don't see him at his weakest moments, the times he doesn't think he can go on anymore, the times he doesn't want to.
The path to glory isn't paved with gold, but blood and sweat and tears and grit. The one walking it will want to turn back, but it will have dissolved into mist behind him, so that there is no way to go but forward. And he'll try to remember why he's walking it in the first place, but all he'll come up with is that he doesn't remember anything else. So he keeps going, and eventually he gets there, but by then he's broken. Or maybe he's just gone.
Do you get what it means to lose yourself? To shut everyone out because the alternative is to drag them down into your personal hell with you? Part of being a hero is to learn to understand. You're shattered inside because you know that even though you're fighting for someone, you'll have to fight alone. Being a hero is lonely. There's nobody there to clean your wounds or hold you tight as you cry broken tears.
You're still going, holding onto the ideals you're fighting for, even though now they're twisted and butchered and you don't believe in purity anymore. The world may enjoy what you win them, but you'll still be here, in this time. You'll be scarred.
I can't understand. How can a person become this broken? My heart still beats, but feeling is gone, replaced by empty numbness. The end's starting, and after that… what? The heroes, the ones who're dead under the smiles and medals, where will we go? Is there a place for us in this new world? Or are we doomed to remain behind as everyone we once loved moves ahead?
Maybe I haven't lost who I am. Maybe I'm a different person entirely. Does it make a difference?
Now the sun is breaking the gray slate sky, and everyone is dancing and spreading their arms to the light, and tilting their heads back and laughing, but how do they not notice that the light is cold and empty and I'm sinking to the ground because I'm empty too. The world slows and I'm on the ground and my head is spinning and sound assaults me from all around and it won't stop and all I can do is scream from the pain because it was supposed to go away and IT DIDN'T and all they can do is tell me what a hero I am.
I won your war, but as I watch you celebrate your victory, oblivious, I'm still fighting mine.
I always will be. This war's not over, not even in your arms.
I hope it was worth it.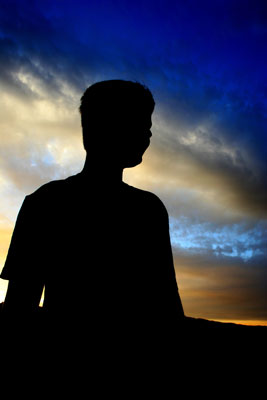 © Monica L., St. George, UT