You Trippin'?
September 30, 2014
Everything is so bright, I have to squint to see. Life is everywhere. My pale hair is thrashing in the wind and I am so so so alive right now. I'm in a room with no doors, but that's cool, I dont know where I'd want to go. I lift my hand up and suddenly it's there, right in my face. Such intricate detailing on my palm. I wave. Oh world.
I want to do something. I try to run, but something is holding me down. Is it fear, inhibitions? No, its the nylon rope strapping me to the chair. All of the sudden, the florescent lighting is hurting, hurting, burning my eyes and the straps are tight, tight, suffocating. I want to get out! Whoop whoop whoop sounds in the distance, bearing down on me and the wind continues to throw my hair around except now its fierce fierce and cold.
"Help" I scream. "Help", except I can't remember if I actually said anything or if any air left my lungs or if i am breathing at all. and now, now I can't breath. Panic thrums through my entire body and I raise my arms to my throat and scratch scratch because oh I just want to breath and there is never any air and I can't. I can't. I can't  .

In her bedroom Sylvie spasms and then lies still, still, dead on her bed as her fan continues to gently tug at her hair. Don't do drugs kids, especially hallucinogens.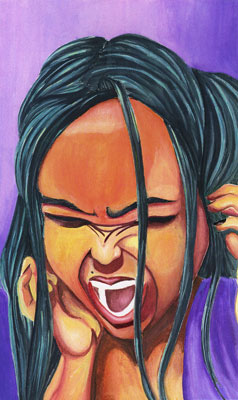 © Kriztille J., Briarwood, NY