A Midsummer Day's Dream
October 18, 2014
The hum of Cicadas hangs in the thick summer air, as familiar as an old favorite blanket. The willows sigh in defeat as they fail again to shrug off the heavy sky around them. Each ray of sun bakes the soft earth, cramming its warmth anywhere it doesn't belong.
Regardless, the beat goes on. The children hop quicker and stick to more things; the tar generates a putty, turning kids into elusive clouds of gray/ black matter. Their popsicles run rampant in rivers of artificial juice, even stickier than the real thing. Nearby, the creek crashes gently on. Fish float lazily in pockets of shaded water. Families drift by on tubes, pouring their laughter generously into the overgrown banks. Layers peel off unwillingly, clinging to skin, soaked from the inside out. Shirts, shoes, hats... All lost, and in time, forgotten too.
But the smiles. Oh! The effortless smiles. Like plaster, they adhere, hugging each word as if it'll be the last. And the way they permeate the soul, never forcing or fighting, just popping in and setting up camp. Plush blades of grass lean on their neighbors, forever tumbling beneath picnic blankets and folding chairs.
Dirty bare feet trample the sandy bed of the creek, anxious for s'mores. A reluctant fire sputters and then ignites with a dull fury, ready for the festivities. Greedy fingers swipe bags of oversized marshmallows, begging the flames to have golden-brown mercy on each fluffy pillow.
Blistered and overwhelmed, the sun slowly plunges into the forgiving horizon, making way for the cool glow of the night sky. Music hovers, competing fairly with the songs of crickets and distant coyotes. Lighting bugs find their way into jars of plant life and riddled lids, settling in for the night and blinking silently on. And above, each star accompanies a smile, twirling it around, endlessly twinkling on through the night, never tiring of the happiness it feels.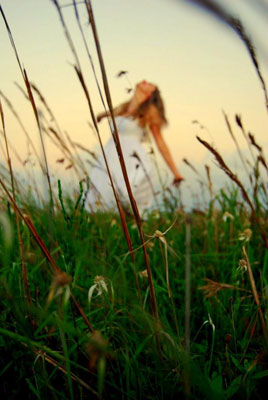 © Richard F., League City, TX