Awake
December 31, 2008
The greenest of eyes focus their gaze on me. They belong to the tawny-haired girl whose name I do not know. Every move I make; even a budge, the ominous eyes would trace the movement. And I haven't the slightest clue of the source behind them. All I know is that the teenage girl has been scrutinizing me for a week or so now. And I have endeavored to ignore her observation, but all to no avail. I always sense her glare at recess; when everybody else are drawn to gossips. Because of her examination, my feel for banter and chitchat ceases to incite. My thoughts now hover around the spiteful eyes and their master, who must be on my back again, staring and awaiting my surrender.

I pace aimlessly around the school meadow. After a moment, I manage to ravel her gaze and conceal myself behind the ripened-apple tree. I sink gradually to the ground, though I regret such action. The earth below is damp from the recent rain, and the thunderclouds above threaten for its return. I sigh, still perplexed, as if I can become crystal clear ever again. Instinctively, I drop my face into my waiting hands. Why should I be afraid? I ask myself. She's merely a threat to me. Seconds elapse, and I tentatively lift my head to face reality once again. I want to confront her, but that verdict turns ironic the instant I see the girl's visage towering over me. Her emerald eyes flaring, but her face composed.

Her head wavers back and forth as she studies my face. Even without a mirror in sight, I believe it was daunting. And I loathe myself for being such a coward. But I can't repress my fright, for some unfathomable reason. She is like a spy, but a very conspicuous one. As she reads my face — which shouldn't be so hard — I try to come up with a loophole that will, as a result, isolate me from this menace. Unscathed as I am, I yearn to break free. I long for my liberty — a right I possess with no cost. And then it strikes me, not a meteorite that'll end my life faster than I can breathe, but a concept so simple yet convenient. I should report her to the principle. Or the police, even better. No longer will she be able to pursue me; to be the origin of my nightmares. But instead — my subconscious advised — I should wake up from this nightmare and face the world with a surge of courage. I thrust myself from unconsciousness, into the light of daybreak. Awake.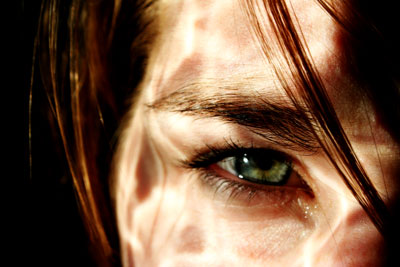 © Monica L., St. George, UT