This is Goodbye
November 29, 2014
"What do you mean, Billy?" I stared despairingly at my fiancé.
He avoided my gaze. "Sorry, Laura. But mother doesn't approve of us being together."
"So? We can work on her together! Billy, we can talk to her and- Billy, look at me!"
He kept his eyes averted to the ground. "Sorry, Laura." Then he scuffled back up the driveway to his house, with his mother and her strict eyes watching us like a hawk.
"Wait, Billy!" I ran after him and grabbed on to his arm. "Didn't we promise to be together forever? What about all those times we spent on dates- the walks, the camping? Doesn't any of that mean anything to you? Didn't I mean anything to you?"
"I'm sorry, Laura." But he wasn't turning around to look at me.
"Stop saying you're sorry! Just turn around to look at me!" He wasn't turning around. "What about all of our promises? I'm your fiancé and I know you still love me! Just, please, stop letting your mother take over your life! Haven't you had enough!?" Tears were streaming down my face now, but I didn't care. I needed him to be with me.
"I'm, sorry." He tried to get his arm free, and I held on tighter.
"No! You promised- we'd confront her together! We came here all the way from university, and after all our efforts, are you just going to go weak in front of your mother?"
He didn't say anything this time, and tried to pull away again. Again, I held on tighter. "Billy! What doesn't she like about me? I'm in my 4th studying computer engineering and I'm in the top 10 of my class, for Pete's sake! Is it because I'm black? Is that it? Is that why your mother won't allow us to marry?"
"Laura, you don't understand-"
"No, you don't understand! What happened to all that courage before we got here? What happened to all the time we spent together, talking and laughing? Are you going to erase all of that, just because your mother told you so-"
"Stop it!" He shouted, and I was stunned into silence. "Let go." He pushed me off, not even hesitating to walk back to his mother's side without so much as a glance back at me as I sat, collapsed in front of his house. His mother put her arm around his shoulder and took him away, looking down on me distastefully as she closed the door. I burst into tears and great heaving sobs overwhelmed me. I couldn't get rid of the image of his back as he walked away from me, erasing the past of his kind, smiling face.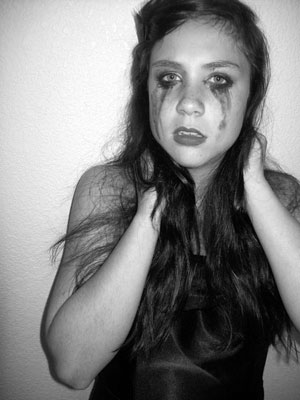 © Tiana D., Monument, CO