The Kind of Girl No One Would Go Looking For
May 6, 2015
I wasn't the typical teenage homecoming queen, the hot theater nerd, or the one cheerleader that was nice to everybody. I was the kind of girl no one would go looking for.

Boring brown hair and boring brown eyes. I was the very portrait of simplistic. Not beautiful, not even pretty. I got the occasional zit and I had poor posture. I was just...me. I wasn't interesting in any way, shape, or form. My cheeks were chubby, and I had full lips. I was boy crazy, but boys weren't crazy for me. A few boys had a crush on me throughout the span of my beginning teenage years, but nothing was ever serious. Got cheated on, got left. I was normal. I was average. I wasn't the type of girl to stand out in a crowd.

If I disappeared, no one would notice except for a few friends and a few family members. The world would go on. People would be fine.

Then I met you.

You were my saving grace. You looked for me when no one else would. When I got lost, you would drag me home and cradle me in your arms until I knew your scent so well, I could never stray from it again. I knew I would be okay when you looked at me with those steady ocean blue eyes.

One day, I strayed. I ran as far as I could. I lost myself. You searched forever, not giving up in finding me. You loved me. You wanted me. You told me that I was the most beautiful girl in the world, and that you didn't even notice anyone else in a crowd; your eyes went straight to me. You carried me through all the pain. Your arms wrapped around me and you cradled me while tears fell like rain on us both. You rocked me in your arms and told me I was yours. And yours I am.

When I woke up screaming from nightmares, choking on my own sobs, you would cup my face and kiss my forehead until I calmed down. You kissed my tears away, the salty water remaining on your lips as you pulled me into your chest. I would breathe in the scent of you and immediately feel better. There was something so familiar about you, like we were together in another life. I don't believe in reincarnation, but maybe...maybe there was another version of us together somehow. In the past.

I was the type of girl no one would go looking for. But you were the type of boy that looked for lost treasures, and I became yours the second our eyes met.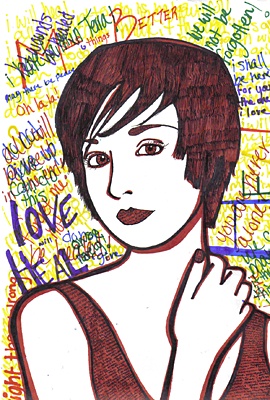 © Sara D., Aiken, SC