Dreamland part 1
May 18, 2015
I lie here, awake. 11:59. I wonder
I wonder about a lot of things really.
But, mostly, I imagine....
What if I got out of bed, and climbed the stairs right now? Leaving the basement in the dark. I could never turn on a light with that amount of magic hanging in the air. It would run away with the flick of a switch. Gone, all of it. The stark, deafening silence. The blinding darkness. The magic of being half asleep, and slightly afraid, and yet wide awake all at once! It would all be disappear.
No. I'll lie here, a keeper of the flame.
How? How could I possibly sleep on a night like this? With the darkness so deep, so full of music. Full of poetry, and art. Darkness filled with the wild dancing, chanting, living. It's all there and I can Almost see it. That's something worth staying awake for. Finding artwork in the shadows without end. Hearing music in the silence echoing off the walls. Remembering steps to an ancient dance you've never done before. A dance, the beat of which is truly one's own heart racing; the beat reeling from the utter emptiness of night.
I think, if I walked upstairs, right now, in the dark. Anything, everything could happen. I almost do. I get halfway up the stairs each night. In the pitch black. But there is always reality. Even now, I think about going. I know nothing will be there. No mysterious figure. No glowing orb. That doesn't happen in my life. And yet, I think: maybe, if I hope, wait, pray, anything, just a bit longer. If I could just hold the blazing wonder in my mind up high enough. Maybe? Just maybe! The darkness will part, and maybe I'll find it. My destiny. I probably sound like a little kid...
However, an imagination is terribly hard to rediscover once lost. So, I'll ramble on a bit more. Just long enough for the shapes swimming before my eyes turn to magic. How can I close my eyes now, when at any moment that mass of fate imagination and magic, just sitting outside my door, will come in here. And suddenly, I'll be there. Living the things I dream about while lying awake in bed. I would rush upstairs, throw open the front door and gaze. The moon will just have risen. I'll look deep into it, and look back down. To realize that my feet are no longer on the ground. A rush of excitement wells up inside me. What next? I never find out. My dreams always write the end of that kind of make-pretend game. But I wish, to all things beyond the ordinary that exist in this world, that if I could, just once, fly. Discover that magic is there. Remember all the things that I imagined so hard for so long when I was little, that they became real! Something! Anything! I wish!
Instead I am all alone. In the silence. Only filled with my thoughts. I stare at the tar-like darkness. I watch my eyes play tricks. Inventing their own images from the black. I think that maybe I'm seeing the shadows of my wishes. I've just forgotten how to pretend.....
The clock outside ticks. One second has gone by, and I'm still here breathing in and out. I'm not insane. I just haven't completely forgotten I guess. Tend the flame.

I wish....

The clock strikes twelve.

I wish....
NOIZTHIMS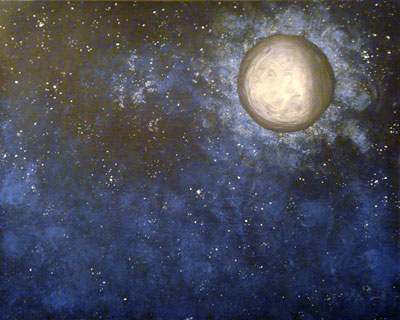 © Allison H., Vancouver, WA