Dreamland part 2
May 18, 2015
My eyes fly open.
The whole world is sleeping.
3:00 am.
The hour of dreams. I prefer to be awake at this time because, as I've discovered, it is the hour of dreams no matter what conscious state you're in. Asleep, awake, anything in-between. I don't know when my dreams will come. But they will.
I close my eyes, not to sleep, but to dream. When I open my eyes again I'm no longer in a dark room. I have been gently laid in a  field by whatever cosmic force invented dreaming. The field is a massive expanse of grass that's just high enough to disappear into when lying down. And when doing so, one can still see the sky, which is a massive expanse of gray clouds, but has a definite texture layered by the breeze. There are also a few large old cottonwood and willow trees around to give the atmosphere more  color. With branches perfect for climbing and swinging. I could go play on them as I do some nights while visiting my dreamland, but I choose not to in favor of something a little warmer on the pallet of  my mind.
  I sit up slowly, and inhale. There is no rush. I know right where I'm going. I turn to the huge curving hedge on my left, that stretches far into the field on either side. I am vaguely aware of the stirrings and the feeling of eyes watching me from in the forest away on the other side of this clearing. That is not where I choose to go this night. I need the comfort and lazy joy of home. Not the adventure and uncertainty of the forest that I've erected for myself to discover. Instead I stand and direct myself towards the hedge. There are a few large and visible entrances from the outer ring into the expansive maze beyond, but it's my maze. So why on earth would I use a conventional entrance? I walk steadily to a small gap near the bottom of the twenty foot wall of plant life. I duck down and trace a very familiar path through the hedge. The little resistance the leaves offer me is contradicted by the way they spring back into place to hide my secret entrance.
I emerge on the other side in a twisting passage of maze corridor. Here it is sunny, but with just enough clouds and wind to keep the temperature just right. To one side there is a clearing with a fountain full of coins, but again, I have somewhere to be. I take off my shoes and throw them back over the hedge. There is no need for them on the grassy carpet that runs through the entirety of this place. Barefoot is simply the only way to appreciate fully the experience of this place I've made for myself. I could wind my way easily through these passageways of greenery, yet,  at this point I can feel the longing for comfort building up inside myself. So instead, I run in a direct line towards the place of my longing. The hedges move aside enough to let me through, but not so much as to prevent the Dewey leaves from brushing my arms and face. As a result, I am very damp by the time I reach the central area in my inner shell. I walk up to the stone wall that surrounds perfectly this place. I place my hand in the wall and, almost affectionately utter the words which allow me entrance here.
An archway appears in the wall. Right in front of me. Now I'm overwhelmed with emotion. Tears stream down my face as I enter this place. The evening sunlight hits at a very low angle across my face as I enter. There it is. A winding, meandering garden of flowers and vines and little ponds with gold-leafed lilies stirring around gently. Some of the flowers have lights in them, that can't quite be seen in the bright sideways rays of golden light. I walk slowly through this part. No stalking purposefully. No jogging excitedly. I stroll with my emotions. The tears that I can never quite find in real life seem to slide very easily down my cheeks. Here is where I can feel. This is why I wake up at three in the morning. To come back to myself again.
  As I approach the very epicenter, I see it. The tree that I have managed to transplant from my backyard directly into my memory. It's bigger here though. The tree house contained in its many branches is more complex. The swing that hangs off its branches has longer ropes so as to approach the ground that's farther away. I sit on the swing. And look at the moon. In perfect view through the branched of this expansive maple tree. The sun shines across the grass in front of me; leaving ever-stretching shadows on the deep, thick grass. I begin to pump, and increase my swinging in speed. Funny how when you swing higher, physics demands that you should go faster, but it always feels like time slows down to allow you sufficient time to attempt to touch the sky. I do so. Time slows. I let it pass me by. Here, there is no time. I am dreaming.
I watch the shadows stretch across the ground until that is all that is left. Fireflies come on one by one. And begin their dance across the sky. I look back to the moon. It is still illuminated by the sun, which is still turning what clouds there are pink and orange. I swing this way for a while too. The moon turns slowly from gold to the stark white-ish silver that it will be all night. I hear water trickle gently in some far away corner of my garden. My tears have run out. I wish I could stay longer, but I know my time here has been spent for the night. "another time." I whisper to the blackness. The swing comes forward and peaks at it's highest. I let go. I slip forward, and fall. The ground rushes up to meet me. Excitement builds as time speeds back up at last. Right before my feet touch the grass, my eyes open.
I'm back in my bed.
It's 3:01.
I love time when I'm dreaming.
I've left my space of love behind.
I close my eyes.
I wish...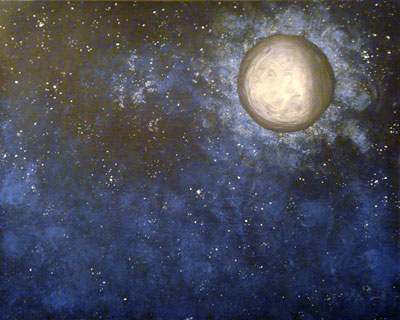 © Allison H., Vancouver, WA