Mickie (first draft)
May 18, 2015
Sugar is sweet by itself, but even more so when mixed with flavors.
She is the flavor, one I've never savored before, one that's intriguing to me to a point of shear attracted interest, and I believe she knows it. She can hear the interest, can feel the heat of my words, and I feel hers as well.
Heavy conversation? I think not, It's a natural for us both, whether or not we realize. For we are both expressers, both professing emotion like analysts.
Poets
The Irony of it is that she's better, but I don't mind, we are after all different professions of the same thing.
Sweet like syrup, shy like mockingbirds, hesitant as kittens, flow like the winds that blow the currents of the ocean, and as vibrant as a child high on fructose.
Feminine intuition should tell her she's entering dangerously close territory, but she powers on through it regardless, perhaps with ruby red blushed cheeks, perhaps with a whole-hearted smile, perhaps not. But she has taken it, she has taken my eyes off of the situations, the standards, and placed them squarely on  her.
I haven't felt the buzz in a long time, haven't felt the attraction in mere moments, yet they have both been reawakened by her.  What's going on in my head? Is there something that I'm missing? Indeed, It's her.
A poet in every sense of the word, and a beautiful fortune more so. Her name is synonymous with soul, her eyes are only described as deepening pools of eternity, smile described as Insta-ready, but is that all? Whoever mentioned it was unjust to her. For her smile speaks more than she. It tells of trial and error, love and lost and perhaps more.
She has lost much, but what she has lost shall be regained somehow, and I pray I'm around to see her dreams be achieved singlehandedly by her,  girl wonder. Taken more stress than the human body should bare and still walking through the hell with clenched fists and a strong gait.
I can feel her presence, sense her sadnesses, why cry? No need for tears of sorrow for you one day, no need for fears or upsetments. I know she knows who she is, and I hope these words touch her, for nothing else shall harm her, nothing shall infiltrate her innocence and take advantage, not with the help of my will and strength, and I give it to her now for her well-being and protection.
I don't know her as much as I'd like, but perhaps I might, perhaps I might understand her complexities for good and allow them to stick close to me in whatever form of intimatic energy we find, whether friendly or deeper.
A speaker is simply an amplifier for sounds, a stronger voice for a weaker one.  I have been told that I'm the speaker, the strong voice in a world of weak voices, but I don't see how. She is her own speaker, her own voice may rise louder and stronger than many that have been tried before her, and yet she still hurts. If I could, I'd take the pains away, protect her from what I believe is hurting her. But what if It's not what I think? What if I'm merely protecting her from what I figured was hurting her and it wasn't. What if I only end up messing up again? It's not my intention to ruin the rose by picking it, but to let it linger in the weed patch would allow it to disappear from me.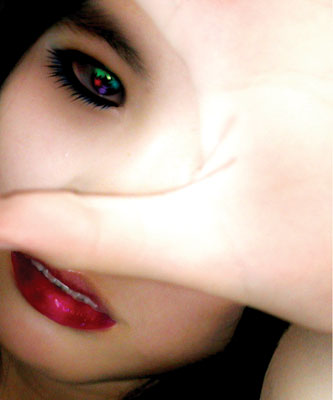 © Victoria W., Arcadia, CA