Picture of a Smile
June 9, 2015
     My hands trembled as I heard the flashing of the cameras. 
"Say cheese!"  I heard over and over again in my head, like a nightmare with no "happy ever after" ending.
     "Next!" the bald man called.  My feet slowly made their way off the "X" on the floor and over to the stool.  He patted it roughly with his hand.  "Get on up there."  He invited with a grin.
     I did not smile back, simply doing as he asked.  He instructed me on how to sit, placing my hands folded in my lap and my legs on the footstool.  My chin was to be raised, and my shoulders relaxed. 
     The old man ran to his spot behind the camera.  He leaned into the eyehole, then lifted his head.  "Aren't you going to smile, hun?" he asked gently.
     I shook my head.
     The man left his post and came up to me, squatting down next to the stool.  "Why not?" he asked.
     I was tempted to say nothing, but I simply opened my mouth wide.
     He smiled.  "Ah, yer a metal mouth, are ya?"
I licked my gold brackets nervously.
     He paused, placing his wrinkly old hand on his chin as he stroked the stubble.  "Do you know what I say to that?" he asked.
     I shook my head.
     "Your mouth has a beautiful golden frame that has no picture of a smile in it.  Why?"  He raised his eyebrows quizzically.
     I frowned, thinking for a moment about this puzzling question.
     "But braces aren't beautiful."  I replied.
     He smiled again.  "Ah, but they are.  Especially yours, the color of the finest gold.  The way I see it, they define who you are."  One of the man's eyebrows c***ed again.  "It depends on how you show them off, of course.  Do you think that you're doing a good job by never putting a pretty white picture in its frame?"
      I shook my head solemnly in response.
      "See, you actually have a pretty picture to show, unlike me.  And yet, I still keep smiling."
      I noticed now that his teeth were yellow with age, having cavities lining the bottom.  But I still liked his smile, it was friendly, and warm, just like him.  I gasped, suddenly it clicked.  This man's personality was kind and warm, just like his smile!  What he said was true, it really did show.  I felt the corners of my mouth raise into a friendly crescent, showing off my beautiful gold frame and white picture of a smile.
     The man grinned back, stepping behind the camera and clicking.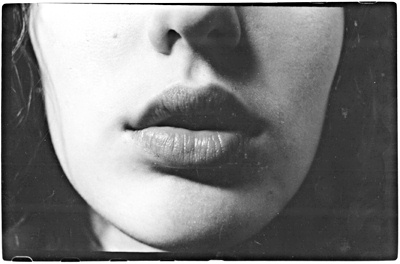 © Samantha A., Southbury, CT