Monday Morning
August 3, 2017
Mr. Lincoln couldn't stop talking about Macbeth. He went on and on about the story about the man and the bird. How he killed the bird, causing coldness, stiffness. Everything was still.
Ms. Cheryl made her way into the classroom. I saw her right away, tote bag wrapped around her left shoulder and her laptop gripped tightly in her right arm. She walked just fine, but her face was full of distraught. Her eyebrows were joined together in a tightened lock. Her skin was ivory. I asked in my expression if she was okay but quickly created a smile on her lips and sat on her desk.
Mr. Lincoln keeps fuming over Shakespeare and the beauty of words. But I see Ms. Cheryl. She suddenly is turning towards us, out of breath, Mr. Lincoln doesn't see her but I do. She's red, like a tomato and she shakes like an earthquake.
"Ms. Cheryl?... Ms. Cheryl, are you okay?" her hands keep trembling. Mr. Lincoln doesn't see her. I urgently touch his shoulder, "Mr. Lincoln… Mr. Lincoln… Ms.  Cheryl." I'm out of words. I can't think. Just help her, please someone help her.
"Cheryl? What's wrong?"
She stands up and through gasps and tears she whimpers, "C-can I please talk to Mr. Lincoln a-alone?"
"Yes, of course." And I'm out of there before she has time to let out another whimper. I feel my legs giving up on me. I'm trembling and I don't even know why.
I walk back to homeroom in a haste and thoughts rush to me. Had the students loathing finally gotten to her? Had they gone and said something to her? Ms. Cheryl wasn't the coolest teacher, hell, she wasn't even my teacher, but sadly I was one of the few that actually thought she was an alright person. She didn't mean any harm; she was always trying to help.
One time I had sneaked in her elective class and joined in a little storytelling. She was telling us how when she was a teenager, she didn't have much friends. It seemed that her family kept forgetting she was there, that she mattered. And for some reason I connected to that.
And for some reason, I couldn't bare the sight of her, a teacher, breaking down before me. Because, weren't teachers supposed to be strong role models? Could they crumble just like the rest of us?
First period, and I'm back in Mr. Lincoln's classroom. I spot him and try to get to him before anyone else enters the classroom.
"Hey, Mr. Lincoln. Mr. Lincoln." I catch his attention; it seems he, as well, is still under shock. He holds his head up on his hand. Thoughtfulness lurks through his eyes. He's far away. "Mr. Lincoln, is Ms. Cheryl okay?" I manage to ask. He sighs, but doesn't say anything. He is figuring out what to say, I can see that. What to say, what not to say, how much to say. I can see the lack of words so I say, "You don't have to explain what happened, like, I just want to know if she is okay…" Just that tiniest piece of information.
"She will be."
And I take it.
***

I sit on my table and work enough to erase my mind of homeroom's events. But I can't help go back to the shakiness, the trembling. I felt it on my wobbly legs.
For a second I stop working, and I glimpse up and I see Ms. Cheryl entering the classroom. Red had found her white cheeks. She's looking down as she walks, and as I turn back to my work, her eyes meet mine. In between my double-take she mouths something I almost don't catch. I smile at her and then at the paper. She realizes I've looked down so she continues to do so too, and keeps walking. I'm excited, but also confused.
Thank you.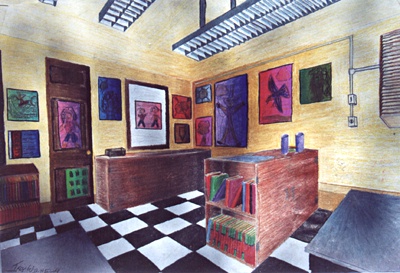 © Troy W., Kannapolis, NC