Fruit From Flower
February 7, 2018
None believed at first sight that she was the only daughter of the richest businessman in the city. Modestly dressed with no conspicuous accessories, she was way too humble to the extent of appearing poverty-stricken. A few rich girls in the campus openly condemned her "modernist" attitude for breaking the traditional social norms. But, she had come to understand the working of the rich man's mind better than anybody to fall prey to groundless thought-poisoning.
Kani was a second-year student of economics at the Lady Doak College for girls. Kani is a Tamil word for fruit. Her talents ranged from poetry all the way to basketball. An all-rounder, no doubt, except at mathematics. Though her father was the owner of the largest supermarket in and around the city limits of Madurai, it failed to show in her simple attire. It seemed like it was the last thing she cared about in her life.
Malar was another top-discussed topic in the campus. If Kani had a straight-angle antonym in the economic spectrum, that would be Malar. Malar means 'flower' in Tamil. Her dressing was of the lowest quality possible, or so it seemed. The fact that her parents were construction workers somehow managed to show in her every aspect. Nothing she could do much about. But, inside her was a brain that could grasp almost anything and everything.
There existed one thing about Kani and Malar in the daily conversations within the college bounds that most could not digest.
They were friends.
"Look," advised the girl in purple jeans, "Just because you're a twenty first century netizen doesn't mean you can be friends with anybody. Look at her. She… she is not a very… nice person to move with." That was how an application for Kani's friendship usually began.
"What makes you say so?" asked Kani. Obviously, that was not the first such advice she had earned.
"Oh, come on! She doesn't seem worthy enough for your friendship. Besides, I even heard that she doesn't have a single pair of jeans. No, not even one."
Kani felt the urge to punch her addressor in the face. Controlling her growing anger, she said irritably, "I should very much like to know since when owning denims gave you the stamp of a friendship-eligible person in the society. I respect her for what she is. Look at her heart, for goodness' sake. None of us is worthy enough for her heart."
"I don't know. I only wanted to warn you. Anyways, see you later," saying this, Miss Purple Jeans (so she shall be known henceforth) strode away on her stool-like heels, flinching at the sight of Malar as she passed her.
"Warn me? Better warn yourself, young lady," thought Kani, but she immediately broke into smiles on spotting Malar. 
"Hey, Malar. I've been waiting for you for ages. Where have you been?" said Malar, her face beaming.
"I'm sorry, Kani. The canteen is selling only chicken rolls today."
"What will you have for lunch then?"
"Never mind. I don't feel hungry, anyway."
"Now you're being a bad girl. Come with me." Kani knew Malar's daily expenses refused to afford for chicken rolls. Malar always evaded her friend during the lunch hour, fearing Kani's habit of buying expensive food for her. She usually went without a lunch on most days.
They both had fried mushroom rice with roasted onions. Malar was relishing the taste of every bite. After having completed a little less than half of her food, she started parceling up the rest.
"What are you doing?" asked Kani, stopping dead amidst her meal.
"I'm done. I'll give this to my little brother," replied Malar.
"Don't do this. You finish it up, now. We'll buy another one for your brother," said Kani, rising from her chair.
"No!" cried Malar, holding her hand. "Please."
After lunch, they settled down below the huge banyan tree that added beauty to the college playground. A few girls besides them had already arrived there. Some leant against the trunk of the tree, earphones on, eyes closed and humming a tune incompatible with their voices. Others were whispering into their phones.
"I wonder in what world they live," mused Kani, "Where is all the real world gone to, no one knows. Anyway, the math exam is on Monday. I won't spare myself if I fail this time."
"You won't, genius. Remember, you weren't in the pink of health during the last test. You would've made it high, otherwise," said Malar, encouraging her.
"As if I would have. I was a math-dunce even in my school days. You will have to put up with me till Monday, as always. Pretty please?"
"Sure, that should be my pleasure. Shall we start with statistics?" asked Malar, pulling out her worn-out books and notes. They both set to study; one teaching, and the other carefully following. This spectacle received the utmost displeasure from the distant onlookers.
"You see? Kani is making the best use of Malar for her own good. I heard that Kani's father dreams of her as a chartered accountant. Imagine his trauma when his dear daughter failed the math test. Malar, poor thing, has fallen right into the trap," said Miss Purple Jeans, observing the duo from the open-air theatre.
"Nah. How do you know? I think they're truly good friends. They've been hanging out everywhere together since the day they met," commented one, not looking up from her phone.
"No, I think she has a point. I bet the world Kani won't give Malar a second glance once she achieves what she wishes to," said a second, resuming to sip her coke.
"Either way, I just think Kani is only a selfish, unfeeling thing," said Miss Purple Jeans.
Way too far for the gossips to reach the ears of their innocent hearts, the two noble souls made good progress together. Their world was a colourful theatre of its own, in which Kani and Malar were the only dancers, and they never chose to entertain money as an audience. They just hoped for the society to visualize them through the same lens as well.
Exam days turn up faster than the end of holidays. The Math Monday fever seemed to dwell in the eyes of every economics student, especially in Kani. She had been sending prayers to all the gods she knew since morning.
"Stop trembling. You're making me nervous, too. Remember, you go in and slay it," said Malar, the only confident-sounding voice in the crowd.
The exams for the first semester were over, and the students marched home as if they had finally won the terrible war. They were too happy to ruminate over the question paper; not even Kani and Malar were in the mood.
At the college's main gate, Kani and Malar parted with a hug and a sense of grief. The span of ten days ahead of them somehow seemed unbearable to them.
Malar left for the nearest bus stop, while Kani waited for her car to arrive. Kani had battled with her parents for a motorcycle, but to no avail. "How could you ride a motorcycle to college?" "What would everybody say?" These were few (just a few) of her parents' lamentations, of which Kani was distressed. Coming home, she went up to her luxurious room in the first floor, completed her homework, and then took to any leisure activity that invaded her mind. Maids took care of all the household chores, leaving nothing for Kani's part to be done. Besides, she had lessons in music thrice a week. She frequently wished she could escape her boring life and visit Malar for once, but was never able to. The fact that she was the only child added to her misery. The grass is always greener on the other side.
Malar reached home, and waited for her brother to arrive from school. Her little house was almost the same size as that of Kani's bedroom. She took to tidying the diminutive living room and the kitchen, washed all the clothes and utensils, and also cooked "dinner", which was always boiled rice (with pickled lemons). Her parents would return with the set of the sun, carrying their tired muscles, after a day of laborious work and stress. On usual days, Malar's study hour began with the lighting of the kerosene lamp at six in the evening. She and her little brother, Kumaran, sat by the lamp to study, clearing the doubts and sharing experiences now and then. Such were the circumstances that nourished Malar and Kani, and yet the special bond they had developed was free from inferiority and prejudice.
The students sat mummified as the maths professor distributed the corrected answer papers. Varied expressions and hushed murmurs travelled through the length of the classroom. The two friends were seated together. Kani clasped both her hands, eyes fixed on the bundle of papers. Malar's name was called out. She returned with a centum-smile on her face. When Kani's name was called out, she received the paper as if she was uncertain if it was the right thing to do.
"I've passed!" Kani screamed on seeing the paper, standing in the middle of the classroom. Her eyes gleamed with dancing joy.
"Kani! Remember, you're in a classroom," reprimanded the professor.
But, Kani had become both deaf and blind. She found her seat beside Malar, and they celebrated their happiness by throwing a "silent party". Mission accomplished.
A lonely spot in the college was the favourite of the two girls. They sometimes spent all their noon hours there. It was under the two adjacent neem trees, directly viewing the college chapel and the lush green gardens. The white and violet flowers danced before them. It seemed as if the merry flowers were laughing and gossiping about the young ladies that paced to and fro around the region. Kani was silently watching the sparrows making a huge fuss on the roof of the chapel, and was lost into another world. She was writing a poem. Malar sat still as a mouse, reading Kani's older poems which she had showed her.
"Kani?"
"Yes, Malar?"
"Would you mind if I asked you something?"
"Not at all. What is it?"
Malar stared into her eyes for a few seconds, buying time to decide on her decision. Then, she began, "Throughout my life, I have seen the rich girls move with the other rich girls, while those poor form a group of their own, and the difference only grew wider in college. But, why is it that you're different? Your poems mainly concentrate on poverty and common people, like me. They make me cry. You never made me feel the dreadful way others do. I don't mean to hurt you in any way, but, why?"
Kani blinked for a split second of time, and broke into a glorious smile, which then disappeared slowly. "You know what, Malar? The answer is simple," she said, looking at the distant sparrows once again. "Experience. My father was not always what he is. I have seen him spending sleepless nights worrying about repaying the loans. I have seen him get verbally abused by the lenders. I have seen him maintain silence in those occasions. I have seen him striving to give us a proper shelter. I have seen him shedding tears in solitude worrying about the next meal. I have seen him do everything to send me to a good school. I have seen him being disrespected by the relatives and the society for being a poor man. I have seen them all. I have gone through everything like you. So, I know what it feels like, alright." She then added, "You see? My name means 'fruit', and Malar means 'flower'. Just like how the fruit comes from the flower, the girl that I am has come from the girl before me."
The flowers bent forward with the wind as if they agreed.
Malar's eyes filled with tears.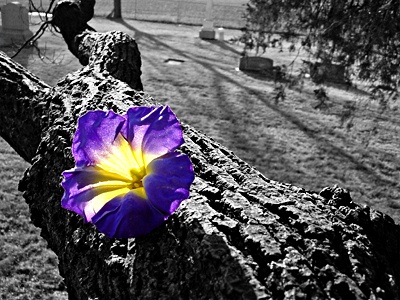 © Greg K., New Lenox, IL