The Quiet Girl
September 19, 2018
As soon as I step outside, my eyes fall on her. The girl that doesn't talk. Everyone talks about her, but she doesn't talk at all. No one knows why. They say there's nothing actually wrong with her voice. Yet she won't or can't talk.
She's always reading. (I notice because I read a lot too. Not that I mention that at school, but it's true.)
Sometimes people have a flash of bravery or brilliance. This was one of those times for me. Suddenly I had the urge to go say hi. Crazy, I know. I didn't know why. But hey, you should always listen to those breakthroughs. So I walked over to where she was sitting, head down and reading. I sat down opposite her. Ok, start simple, I thought.
"Hi," I said. Like I said, brilliance. She started, looking up at me in surprise, red lips parted and grey eyes wide open. Jeez, her eyes were striking. I hadn't realized until now just how pretty she was. She stared at me for a second, then slowly smiled. Wow. Now she was gorgeous.
"Is that a good book?" I asked, genuinely curious. Her mouth opened and for a second I thought she actually might talk, but then she just smiled again and nodded."What's it called?" She held the book out for me to see. Anne of Green Gables. I've heard about it but to tell the truth, that book doesn't actually sound interesting to me. I mean, come on, a girl who talks a lot and makes a lot of mistakes? How is that even different from real life? Plus, it's a girl book and if my friends ever found out I'd read that, I'd never live it down. "You really like it?" I asked. She nodded again, emphatically.
"Ok." I said, shrugging. "Umm...so..how old are you?" She stares at me. I get the feeling she wants to talk, but can't and is willing me to keep going. "Um, 14? 15?" She nods at that. "15?" She smiles and nods. She points at me, tilting her head inquisitively, a movement that is both adorable and irresistable. "I'm 16." She nods. An awkward silence ensues, in which I try to think of something I can say that doesn't require her to physically say something. "What's your favorite book?" I say, before realizing she needs to talk for that. Ok, not so brilliant. To my surprise, though, she pulls out a small notebook and pen out of her backpack. I've never seen her do that before. (1) She scribbles something in the notebook and hands it to me, looking shy. It says The Chronicles of Narnia, in flowing handwriting. "Hey, that's one of my favorite books, too!" I exclaim. She grins, looking at me in delight. She gently takes the notebook from me and writes something, then hands it back. It says You like to read? "Yeah," I say, voice lowered. I lean in closer to her. "Don't tell anyone, though." She chuckles silently at the joke. "Hey, I never even asked your name," I realize. She writes in the notebook and gives it to me. "Livvy, short for Olivia," I read aloud. It fits her perfectly. "I'm Alex." I stand up and stick out my hand. She takes it and we shake. "Nice to meet you, Livvy," I say, grinning. She nods, the happiness clear on her sweet face. Walking away, I look back once. She's still watching me. I can barely stop my smile from stretching to my ears.

Sometimes, people have flashes of bravery or brilliance. Almost always, it leads to something good. This is definitely leading somewhere wonderful.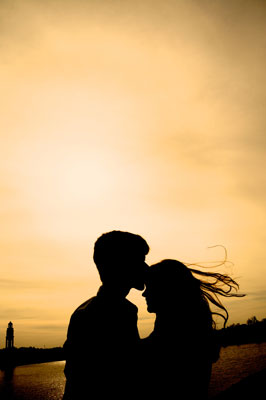 © Katya K., Westfield, IN