Northern lights
April 28, 2020
I crept down the stone mind path that led to the beach. Normally, I would go on to the cliff that overlooks the ocean. But tonight, I go down to the shoreline. It's lined by thousands of tiny smooth white pebbles that give the illusion of thousands of glittering diamonds. I shiver. The stars glitter overhead, and a chill breeze whistles through the caves under the cliff. It's ten o'clock at night, but my parents won't notice… they never do. 'Where is she?' I think to myself. The whole reason I'm down here is that the most beautiful girl in the school finally asked me out! My parents would never let me be with her, so we were planning to meet at the beach. It may be cold, but I chose this place for a reason. Tonight, a rare case of the northern lights is coming out! All of a sudden, a figure slips out of the woods. Her long gold hair streams behind her. She is wearing a beautiful lavender gown with open shoulders. She notices me and tips her head in the direction of the cliff. My whole body buzzes with excitement. When I get there, she smiles. It lights up the night like the sun. " Hello Jack," she says in her soft voice. I practically yelp with happiness. Then I notice the slightest shimmer in the sky.
"Look," I whisper, my voice so quiet she can barely hear it. The sky floods with thousands of glittering colors, all shimmering and glinting and moving. It's breathtaking. But it's over all too soon. We're silent for a moment, the Sylvie says
" That was… incredible. I got you something, but it won't be as good as what you showed me." She draws out a box, about the size of my palm. "Open it," she urges. I open it. Inside, is a glittering ruby. It's huge! She draws out another and fits it with the first. They make a heart. " Do you like it?" She asks nervously.
I smile at her. " I love it, almost as much as I love you."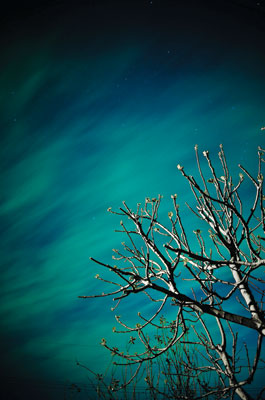 © Chyi-Dean S., North Tustin, CA