Elijah #1
June 3, 2009
"I have all these feelings for you", he confessed. "I'm just not sure what they mean."

That was the beginning.

"I don't love you anymore", he whispered.

That was the end. The beginning of the end, anyways.



Quack-quack-quack. The phone was ringing.

I ran to the living room, dodging my sister's shoes and clothes that littered the hallway floor. I picked up the quacking phone and looked down at the caller-ID. It was Him. I debated wether or not to actually answer the phone, or to just continue to staring at it. I figured I might as well have a little fun, for the time being, so I picked up.

"'Ello?", I innocently squeaked.

"Leanne?", he asked, confusedly. He didn't expect me to be chipper. I always fool him.

"Leanne? No, no. No one here called by that name. Me name is Latta. Who this be? You must have wrong number. I no know you. Me phone book is on me computer desk if you wants me to number look for, yes?" I held back a snigger.

"Uhm, this is Elijah Rush. Are you sure I have the wrong number?" He sounded nervous. I was beginning to like this very, very much.

"Oh yes, you must. But me phone book is right here, me swears, I can grab it really quickly swift. The one that is yellow or the one that it white, me wonders? I be colored blind, dear. Maybe I should get me boy to find it. Billy, come get mommy's-"

"No! No thank you, I mean. Sorry for disturbing you." He was upset. Confrontations were always his soft spot.

"Well next time, think about who you're calling and if you really want to talk to them. Then especially ponder the thought if they want to talk to you, because if they don't, then there isn't really any point in calling at all, is there?", I spat, all scent of accent erased. My sarcasm was practically dripping off the phone. I could feel it seeping into his heart.

I hung up the phone. I was sick of its stupid quacking. Done with the people behind the lines, the poles, the waves. I was absolutely done with him. Elijah Rush. How could I ever have been so stupid?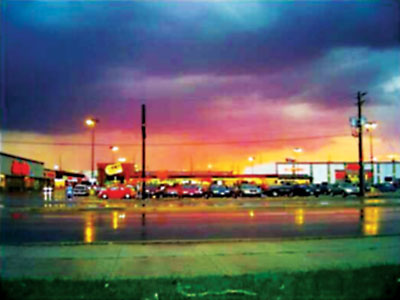 © Jasmine N., Lyons, IL