Memory
October 19, 2009
The tears cascaded down my face. I tasted the salty droplets as they rolled down my chin. I looked out the plane window and I felt like I was drifting farther and farther away from him. The plane started shaking violently and I clung onto my mom's hand. I never do that unless I am really upset. I am 14, it's embarrassing to hold your mom's hand at this age. But, in this situation I didn't care. I didn't care what anyone thought about me. All my emotions were left in the heart of my boyfriend. I had locked all of them away and thrown the key away in Michigan. There was no hope of getting it back.

All I can remember was his face. His sorrow-stricken face. I grabbed onto his sweatshirt and pulled him close. He brushed back my hair and looked into my eyes, "I will always love you," he murmured. He did so in such a way, that I knew he meant it. He wrapped his muscular yet soft arms around me and I never wanted to let go. He kissed me and I started crying. I did not want that to end. He whispered, "Your mom is calling you." With that he kissed the top of my head, and he squeezed my hand and said to me, "Everything will be okay." Then, he was gone.

I remember that last moment I had with him. Surprisingly, under all of this sadness, I am still the same girl. I am happy underneath my cold stare. I am joyful still. I still have him in my heart. I still will be with him in my dreams. Even though, I left, he is still standing next to me in spirit, and I will always love him. Like he loves me.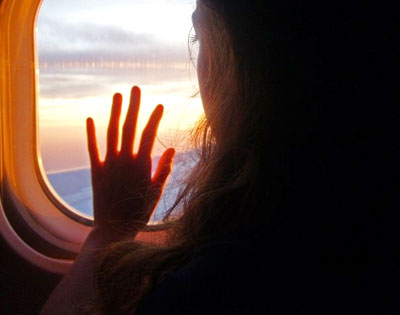 © Megan C., Nashville, TN