Stable Ground 14
November 1, 2009
"All I'm saying," I said an hour later as we were getting ready to leave the hospital, "is that angels need wings. It is a state of fact. No wings. No angel. What if I didn't believe you? How would you prove to me that you are my guardian angel?"

"Trust me, there are other ways. Many other ways." he countered. I sighed and began rolling my pant legs up so the blood stain was hidden. I tucked the medicine that the doctors had previously given me into my pocket and looked over to Jonathan. Through my interrogation with him, I had learned many things ranging from wings (which angels didn't actually have) to dietary habitats. Odd things that I would never guess had been discovered, too. For instance, there were categories of angels. Jonathan was a guardian, apparently, but there were other kinds such as archangels and healers. I felt wildly like Harry Potter, being introduced to a new world you knew nothing about.

Jonathan had been assigned to me the day I was born. He watched over me and talked to me until I was able to talk. He had seen every milestone of my life, which I considered a bit weird, but he knew me as well as my own mom did.

"I'm going to go sign the release forms and everything. I'll be back in a sec," Jonathan said as he left the room. I watched him through the glass window and sat on the bed with a sigh. I now realized why he looked at me the way he did when he arrived. He did know me. We had met before. It just took me a while to remember him.

Completely out of nowhere, an eerie fog spread out over the foot of the bed. Thick gray fog in the middle of a hospital? I stared disbelievingly as a tall man materialized out of thin air. A real man. Solid, tall, and moving, emerged from the fog. He had large muscled and tattooed arms with short black hair standing up in every direction and square sunglasses. He reminded me of a bodyguard. I gaped at the new arrival. He spotted me curled up on the mattress and smiled brightly.

"Hey Storm," he said loudly, apparently to me. I stared for another second before answering.

"I- I think you have the wrong room," I whispered. He looked disappointed.

"Oh, sorry," he apologized quickly. Then the mist formed again and he was gone. I couldn't close my mouth or stop my heart from beating erratically. Rather, I stayed stationary, not able to move or realize what I had just witnessed. A moment or two later, my heart began to slow to a normal pace and my rigid form softened. Still, I stared, dumbfounded, at the spot where a solid man had materialized. Only then did I begin questioning my sanity, and ended up convincing myself the man was a hallucination, an effect of the pain medication. All too quickly after I had resettled myself, another fog began to form. I stared in amazement at the smoke again, as another man, the same man, appeared once more.

"Nope, you're it. You're Storm." he said, smiling at me. When I didn't reply, he added, "I'm Glenn," I shook his big tan hand that he offered me and smiled timidly.

"It's nice to meet you, um… I think. Listen, I don't want to sound rude but I really think you have the wrong person. I'm Sam, not Storm," I said, frightening myself with how level headed I was being, all things considered.

"Well I'm looking for a Silvia Annette Mason. You wouldn't happen to know where she is, would you?" he asked. I gaped at the strange man. Why was he looking for me?

"No. I don't know any Silvia's. Sorry." I apologized. He smiled wickedly.

"Whatever you say." the odd man- Glenn?- turned and stood by the door. "See you soon, Silvia," he left the room ordinarily, no smoke or fog, and was gone for what I hoped to be forever. His last snide comment mixed with the friendly smile that accompanied it left me thoroughly confused, and by the time Jonathan returned, I convinced myself of hallucinations and kept the weird occurrences to myself.

"…and she doesn't know who I am. How can you not know who I am? Of all people? I can understand Sage, but-" Someone was saying from around the corner

"Dude, shut up," Jonathan chimed in. I leaned over curiously to see who he was talking to, but the wall stood between the people and me. Jonathan came around the corner by himself and smiled at me. Behind him, though, was the man that had appeared in the fog. I grew rigid and pulled one of my legs up to my chest, cowering away from the hallucination. Jonathan looked at me curiously, but I kept my eyes on the hallucination, daring it to speak in front of Jonathan. When I continued to stare at the image, Jonathan walked in front of me and stool in my line of vision, placing himself so I was forced to look at him. My eyes focused in on my guardian angel and I licked my lips in hesitation.

"Am I crazy?" I asked seriously. Jonathan smiled and began to answer, but the hallucination walked around him and looked at me.

"No," the image said rather loudly. I yelped just as loudly and jumped back, closer to the wall to try to get away from him. Jonathan looked at me questioningly and then at the image who had earlier called himself Glenn. The look of ultimate epiphanies took place on Jonathan's face and he rolled his eyes at the image.

"Glenn," he called seriously, apparently to the hallucination. The image backed away from Jonathan slightly and moved closer to me, which then resulted in me jumping up next to Jonathan. My guardian angel put his hand on my shoulder. "It's okay. He's my brother." he mumbled. Jonathan's hand moved from my shoulder to my hand cautiously. The warmth of his palm made me calm down instantly. "Glenn, I told you to wait for me," Jonathan scolded lightly. He turned to me and smiled. "Sam, this is Glenn. He's my… brother. Sort of." Brother. So Jonathan's brother was an angel. So was he part-dead, as Jonathan told me he was. Part dead as in he was turned into a human so he could find me. They still had angel powers, but they had human bodies so they could come find me. My new knowledge of angels gave me the satisfaction of feeling smart, which I enjoyed immensely. I turned towards Jonathan and lightly removed my hand from his, letting my mind clear. I immediately regretted the decision. There seemed to be too much space between us, space I despised.

"So the fog thing is an angel thing?" I asked. Jonathan sighed heavily and turned to Glenn. Glenn bit his lip guiltily and sighed, too.

"So I might've…appeared, for her. There was no screaming, she was fine," Glenn insisted.

"Glenn!" Jonathan seethed. I laughed silently at Glenn's face: fake innocence.

"See, she's fine. She's not even startled anymore." Glenn proved. I nodded as Jonathan looked at me in disbelief. "Besides, I'm not even the reason she's in the emergency room, am I?" he retorted. Jonathan seemed defeated for a moment.

"He's not the reason, either," I supplied. "I would have a broken leg if it weren't for him, so…yeah." I ended lamely. "Thanks, by the way," I added to Jonathan. He smiled at me beautifully. Glenn rolled his eyes.

"Whatever, Storm," I thought about the name he called me.

"My name's Sam. Why do you call me Storm?" Glenn looked curiously to Jonathan.

"You didn't tell her yet?" he asked. Jonathan shook his head lightly. "Well, you should do it. As a matter of fact," he began. Jonathan interrupted him by talking to me.

"Is your leg okay?" I nodded quickly. "Let's go," he pulled me out the door quickly as I wondered what Glenn was trying to say.

"Bye Storm!" he yelled after us down the hall. I smiled to myself, waving goodbye to Glenn.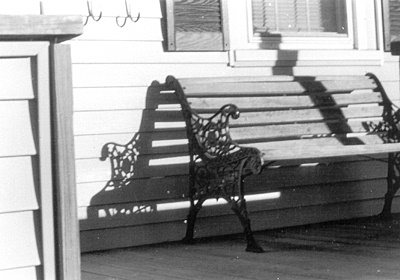 © Lauren O'D., Weymouth, MA