When Ryan Connelly Kissed Me
November 16, 2009
I'm Kori Williams and I am quickly approaching the sweet-sixteen-and-never-been-kissed milestone. It was the end of the summer and it was time to say goodbye to warm weather, staying up until 3 a.m. and sleeping until noon, walking to Ann's Ice Cream to get a smoothie, hanging out at the beach with my girlfriends, and hanging out with my best friend, Ryan.

Ryan is a guy and I'm a girl, but we have known each other since forever, so there is no awkwardness. He taught me how to do a 360 on a skateboard (I broke my wrist before I could do it right but I got it in the end) and I taught him how to ask a girl out (he wanted the girl's point of view). He taught me how to play Halo on PlayStation and I taught him how to stay up all night to play video games and then stay awake in school (espresso shots and using one of those shock pens on himself every twenty minutes). Ryan and I have a special bond that no one can break. We are always there for each other.

On the first day of our sophomore year, Ryan and I walked to the bus stop together. I was giggling because he had gotten braces over the summer and every time he spoke, you just saw a flash of metal, and he was teasing me because last year I had had a little, tiny crush on Adam Bartlett, and he was at our bus stop. I was over that now, but Ryan was never going to let me forget it.

Ryan sat with me on the bus and I started biting my nails when we got close to the school. Ryan knows that means I'm nervous and he squeezed my hand to reassure me.

When we got to school and walked off the bus, my girlfriends Cami, Angela, and Melissa were waiting, all in their killer first day of school outfits. Cami was wearing an orange off-the-shoulder tank top and dark wash skinny jeans with orange sneakers. She is the trendy one of our group. Angela was wearing a white baby tee with a big rainbow peace sign on it, a pink mini skirt, and white sneakers with rainbow laces. She was laden with peace sign jewelry. She is our hippie. Melissa had put black extensions in her dark brown hair, and she was wearing a black tank top, purple studded leggings, and knee-high black Converse. Melissa is the edgy one. And where do I fit in? I wear labels. I was wearing a Hollister T-shirt, Aeropostale shorts, and Jimmy Choos. Ryan teases me that if I didn't know how to read, I wouldn't be able to get dressed in the morning.

"Are you okay?" Ryan asked, glancing at his guy buds, who were nodding at him.

"Just go," I said, smiling nervously.

"I can stay…" Ryan said hesitantly.

"Just go, I'm fine. We'll meet up later." I said, giving him a little push. He touched my arm once, then he was gone.

Melissa, Cami, and Angela ambushed me from behind and we walked into the school together, our arms linked. We were lucky enough to get lockers near each other. Cami and I are next to each other at one end of our locker bank, then two lockers down Melissa and Angela are next to each other. Cami and I chattered nervously as we practiced with our locks and taped some pictures and locker posters in our lockers. Then we parted ways and went to our separate homerooms.

When I got to my homeroom with Ms. Broadwater, I groaned. The "populars" were in my homeroom. Tina Wolf, Cara Leeds, Jessica Allen, and their leader, the queen of East River High School, Liz Tucker, were sitting at a cluster of desks in a corner. I nabbed a desk in the back corner of the room and just chilled out for a minute.

Ms. Broadwater shuffled in and took attendance. Then she passed out forms and papers we all had to fill out. You know, the standard first day of school stuff. When the bell rang, I tossed the forms I had finished on Ms. Broadwater's desk, walked out into the hallway, and consulted my schedule to see where I had to go next. Math. The most boring, depressing, miserable subject ever.

At the end of the day, I was relieved and exhausted. Today had been the most boring day in history. All I did all day was sit at uncomfortable desks and fill out form after form after form after paper after paper after paper. When I opened my locker, a little folded-up piece of paper fell out. KORI was scrawled on the front. I picked it up and unfolded it.

Kori--
Meet me behind my house at midnight. IMPORTANT!
Ryan

I shoved the note into my backpack and got on the bus. Ryan was sitting in the back with his buddies, and I sat in the front with Cami.

Before I went to bed, I set my clock alarm for quarter to midnight and went to sleep. A few hours later, the clock alarm woke me up and I quickly shut it off and prayed my parents or older sister hadn't woken up, then took a deep breath and climbed out the window.

I landed on the wet grass with a soft thud and looked up at my parents' and older sister's bedroom windows. There was no movement or sound from either of them, and I stole across the yard, across the street, and hopped the fence to get into Ryan's backyard behind his house. I sat at the bottom of the large tree in his yard and waited. After a few minutes, Ryan hopped down from his bedroom window and scanned the yard. When he saw me, he grinned and walked over. He knelt in front of me and put his face close to mine. "Hey," he breathed.

"Hi," I whispered. "So, um, why are we here?"

Ryan fidgeted and looked away. Kori, I have something to tell you. I…I love you."

For a minute I was just in total shock. Then I realized that I loved him, too. Ryan was like a part of me. All this time, what I was looking for had been right in front of me.

"I love you," I said, and that was when Ryan Connelly kissed me, in the summer air under the stars.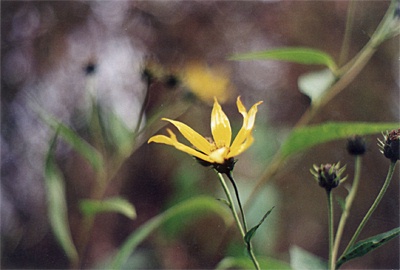 © Scott R., Casco, MI