Beauty
December 9, 2009
I look down at the ink on my arm. Tiny squiggly lines branch out to form a flower. Petals are falling; the rose is dying. As I stare at the purple staining my arm, one lone tear forms at the corner of my eye. Soon, salty streaks line my cheeks, turning them black with my mascara. A sob racked at my chest and I turned away from my memories.
"Oh God, why?" I wail at the whispering trees.
With a trembling hand, I wipe the make-up off my face and onto my jeans that I spent way too much money on. I glance down at my $49.99 red "t-shirt" clothing my anorexic body. Seizing the hem in my hands, I pull the shirt over my body and throw it onto the icy ground. I shivered in the breeze of winter, forgetting I only had on a skimpy tank.
I took another shallow breath and eased the Sperry's off my bare feet. I kick them near the crumpled red cloth, smiling slightly. My once dark shining eyes hardened at the pair of tight jeans holding my warmth in me. I yanked them off, tripping as I did so. I landed on the ground cursing. Warm sticky liquid flowed from my lip as I picked myself up.
I gathered my clothes and took them to the cliff in front of me. I looked down into the darkening abyss before doing what I should have done a long time ago. Grinning devilishly, I "accidently" drop my garments. I watched silently as they plummeted into nothingness.
Without saying anything, I turn and walk on the frozen path back to that place. I glanced down at my toes; they were turning purple. I let out a sigh; the white air left me as if it didn't want me either. A sharp sound rings overhead. I listen to the chatter of my "supposed" friends as they walk to class.
I ease into the large clearing and pause as he turns and catches my eye. His mouth drops open, gaping at my newly shed body. The skinny blonde beside him pulls on his arm, glaring at me the whole while. Her heavily made up face broke into a smirk and she placed her recently manicured hands on her jutting out hips. The cold hard gaze of her shining blue eyes tried to penetrate me. The corners of my mouth tugged down and I shook my head sadly at the amazed boy.
I spun on the heel of my bruised foot and started off in the direction of home. I heard the crunch of sneakers on the ice behind me.
"Don't even try," I murmured, loud enough for him to hear.
"Miranda, it wasn't my choice," he pleaded. I stiffened but continued walking. When I got to the edge of the street I took one more glance back at him.
He stood with one arm outreached as if to grab me. His bright green eyes searched mine and he flipped the floppy mop of black hair out of his eyes. I looked down at his AE shirt and plaid Bermuda shorts, swept over his Rainbow's until finally looking back up.
"You're right," I answered. A shot of surprise jolted his stance and he stumbled, falling onto the ground. "It was mine." Then I stepped out onto the street, not seeing the car speeding down the road in my direction.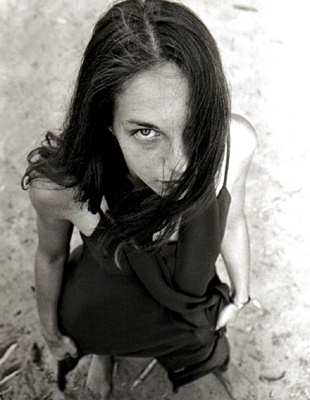 © Johnny V., Burlington, ON, Canada