I hate Tuesdays
December 21, 2009
The day always starts out with a 'Hey you' and a smile. I got so used to it that I started noticing when they didn't come. It was always the same days, Tuesdays, and just my luck too. It was around that time that I started to hate Tuesdays, because it meant that I couldn't see those ingulfing brown eyes. It was on a Tuesday that I found out that I loved him. It was on a Tuesday that I found out the reason for those absences. Every Tuesday for the past four years he had been going to the hospital for a check up.
When I saw him next I noticed that he didn't look as happy as he always did. He said he wanted to talk to me after school and that I couldn't miss it. After the bell rang I ran out to the back of the school to the bleachers where he was sitting. He asked me if I would do him a favor. I said I would do any thing for him. He smiled a little and looked out over the football field.
He said he needed a messeger, someone to carry out his every word and make people remember everything about him. When I asked why he told me I would find out soon enough. Then he started to talk and everything he said, every motion he made I did not miss. I listened to every word and watched every motion. Until he got to the end of his tale I sat mesmerized by the essence he was pouring out of himself. Then he started to describe me,how I looked to him, how I acted,and how much he loved me. Then we sat for a moment and looked to the now darkened sky, and then he told me the worst thing. He said he was going to die very soon.
His doctor had said that his progressive heart disease was reaching to the point that his heart wouldn't make it through next week. Oh, yes he could have lived a few days longer if he was hooked up to thousands of machines. I don't think that was the way he wanted to go. He wanted to go doing the things that he loved to do. He was also clearing things up, taking care of things that would have left his soul wandering the earth.
It was tuesday when I rushed into the hospital, fully aware of what was going to happen. Even though I knew what was going to happen it still didn't stop the tears. When I ran into the room he was getting sleepy. I went to his bed and took his hand and kissed both sides, he looked at me and smiled my favorites smile. 'Hey you' he said his voice was thick with sleep. His eyes held mine for the last time before they slid shut and his hand went limp. In the background I heard the flatline that anounced his death. I kissed his lips for the last time, kissed both of his eyelids softly and cried for the rest of the night. This is why I hate Tuesdays.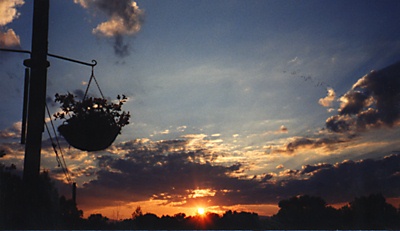 © Christy S., Germantown, NY