Blue Sky Part 4
January 1, 2010
I woke in the morning with the sun shining down on my face. Waking up to the warmth of the sun felt good. I got up and threw on a pair of my favorite jean shorts and a dark red tank top. I glanced out my window and saw my dad get the stuff out to wash his car. I pulled my hair up in a quick pony tail slipped on flip flops and ran out to help him. "Good morning Daddy!" I yelled over to him.

"Good morning sweetheart." he said and kissed me on the forehead.

"Where is everyone?" I asked and looked back at my now empty house.

"Ellie is out with her friends and your mom is out shopping." he said scratching his head. "I need to get to work soon but first I am going to wash my car." he said smiling up at the pretty blue sky.

"Dad how about you go to work and I'll clean your car?" I offered

"Are you sure?" he asked looking at me suspiciously.

"I'm positive. Now you go." I said smiling at him..

"Thanks darling." he said kissed me once again on the forehead and headed off to work in my mother's car. I grabbed a bucket full of soapy water, a sponge, and started washing the car. I turned around as I heard the foot steps of someone approaching me. Eric came out from behind the corner and I felt myself smile. I think I was smiling like an idiot because my face was starting to hurt. I was about to say something when I heard him speak. "Do you need help?" he said smiling.

"I would like that." I said. He came over and grabbed a sponge and we both started washing the car. Our hands were moving in sync while making soapy circles on the car. Eric moved by my side and flicked water in my face. "So is that how it's going to be?" I asked him dipping my sponge into the bucket of soapy water. "I guess so." he replied with a smirk.

"Then it's on." I said hitting him square in the chest with my sponge. He quickly ran around the car and grabbed the bucket of water threatening to dump it on me. We were both running in circles around the car, him chasing me. I turned a corner around the car almost running into Eric. He smiled a little devilishly and drenched me with all the soapy water. I was soaked from head to toe, but we were both laughing. "Now you're really going to get it!" I said grabbing the hose and spraying him until he was as soaked as I was.

Soon we finished washing and drying the car and Eric was helping me put all the buckets, towels, and sponges away. "Thank you." I said looking at the car that was now glistening in the sun. Sitting on the warm pavement beside him I put my head on his shoulder hoping he wouldn't mind. I was a little scared that he would be uncomfortable. I felt his soft hand touch my face and then his hand went up to stroke my hair. My stomach tightened and my heart squeezed with happiness. I sighed as I thought of him leaving me and wondered if being with him was all a dream that would soon come to an end. I pulled my head up to look at him and it was like he read my mind. "I'll always be here. Skylar I'm never going to leave you. I like you." Eric said.

"I like you too Eric." I said laying down on the dark pavement of my driveway and closing my eyes. I was still wet but the sun was drying me inch by inch. I felt it's heat on my legs, arms, and forehead. It felt good I needed my vitamin D anyway. I opened my eyes and saw Eric staring down at me. "What is it?" I asked curious by the worried look on his face.

"I think someone is here." Eric said very serious. I had no idea what he was talking about. Suddenly I felt Eric grabbing me and literally dragging me into the house. Once we got inside he locked the door, and that was when I started to get scared. "You have to be very quiet. Don't say a word until I tell you the coast is clear, and stay with me." Eric warned me. He dashed to the nearest window and looked out. It looked like he was searching for someone, but who? I thought to myself. I desperately wanted to ask him what was going on but he had told me to be quiet and I am absolutely positive he meant it.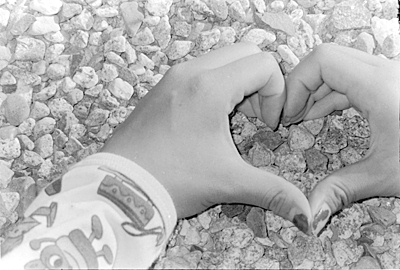 © Caitlin T., Marblehead, MA