Blue Sky part 9
January 1, 2010
"That's everything now go have a good time."

"Do you uh… want to go outside?" I asked looking at my mom for approval. My mom nodded then we walked in hand toward the door and down the steps, down the drive way and deep into the woods. The dry warm grass felt good on my bare feet brushing in between my toes. I sat down in the middle of an open field of grass close to Eric's house pulling Eric down with me. My head started spinning while going through all of the ground rules making sure I knew them all. Looking at Eric, my thoughts quickly flipped wondering what he was thinking about. Eric was sitting by me, brushing his hand through the grass and staring down at it. I took his hand and placed it in between both of mine. While I stared down at his hand I asked, "what are you thinking about?" I looked up at him curious. He flashed me a crooked smile before answering. "About how much fun we are going to have together." I smiled as all of the fun things we already did together flooded my mind. "What are you thinking about?" Eric asked me with as much curiosity. "You and I; everything that happened while we were together. Every event that just happened to lead me to you." I answered him laying down to look up at the moon and the stars. I turned my head to look at Eric; he surprised me when I found that he was also laying down in the grass staring at me. Eric put his arm around me pulling me into him. I placed my head on his chest and breathed in his familiar scent. Eric tucked the hair out of my face so that his face was just inches from mine. He was so close I could feel the heat of his breath against my cheek. He slowly leaned closer and his soft lips gently brushed my cheek and I felt completely safe. I always feel safe in Eric's arms. Suddenly Eric's arms were out from under me, my head was not resting on his chest but against the grass. His strong arms were barricading me, one on either side of my head. Eric was on top of me putting mostly all of his weight on his arms. I look up to see him smiling at me, I smiled back my stomach full of butterflies. I felt someone unlike myself take over my body, my hand slowly stroked his muscles arm and up to grab his shoulder. I wrapped my arms around his neck and pulled myself up to kiss him. My breath got quicker as our lips touched, I ran my hands through his silky hair and one of his arms went under me, holding me up by the waist. Our lips parted, I could hear my heart beating loudly in my chest. Eric pulled me closer to him and whispered in my ear his breath hitting my face with every word, "I love you." He slowly placed me down on the grass and slipped his arm out from under me. "I love you too." I said softly still breathing a little heavy. I closed my eyes completely relaxed, Eric's hand intertwined with mine, I opened my eyes and he helped me up slowly. He kept my hand leading me to his empty house, we walked into his small cozy room. Eric gave me my hand back, grabbed matches, and lit the many candles that were in his room. He blew out the match, set it down and turned to me. I smiled glancing down, my hair falling in my face. I tucked it back behind my ear, his hand cupped my chin and he looked me in the eyes. I looked deep into his eyes they are soft and gentle and warm just like he is, right then I wanted all of him and nothing else; I know what I wanted and nothing was going to stop me.

I wrapped my arms around him slowly pulling him closer wanting every moment to be savored. His arms wrapped around my waist as I laid my head on his shoulder; I was pressed up against him pulling myself into him as much as I possibly could. Eric took a step away from me and he took my face in his hands and pulled me back so he could look at me. He looked at me lovingly and took a deep breath; his hands left my face and went to the bottom of his black shirt which he pulled off over his head. I placed my hands on his hips looking down at his chest, he was absolutely….beautiful. He then put his hands on my waist slowly lifting my brown sweater above my head luckily I was wearing my lacey blue bra; I shivered not from being cold but shivering out of pure joy. The happiness was just radiating from my body; I lifted my hand and traced Eric's beautiful chest and stomach with the tips of my fingers. I really, really loved him I let out a deep sigh, "I love you……." Eric's arms went around my waist and he took the step toward me closing the inches of space that were between us. I pressed my cheek to his chest and he stroked my hair. I looked outside, it was dark out and the fire from the candles danced around the room making the room have an orangey glow. I turned my head and kissed him on the neck; he put his head down and I went on my tiptoes to kiss him on the lips. I put my hands on his shoulders as he placed his hands on my face. The kiss was passionate yet not too passionate, it was a soft loving kiss; the kiss was kind and caring. Eric kept my face in his hands as our lips divided; our foreheads touched as we looked at each other, I felt my face flush a bright red and I looked down embarrassed. Eric took my hand and brought me over to his bed; kissing him was wonderful but I didn't want to go too far with him, not yet it's just way too fast. I have to say something I thought tell him or something I don't want this not yet not now I'm only seventeen! I took my sweaty palm out of Eric's hand as I nervously I broke the quiet, "Eric," he looked back at me and by reading the expression on my face he kind of knew what I was thinking but I kept going; "I don't want to go too far too fast." I explained taking a deep breath trying to calm myself and praying that he would understand. He walked over to me and took me in his warm embrace, "I know, neither do I." Relief washed through me as I relaxed a bit more in his arms. This time it was me who took the next step, Eric felt the same way I did and this made me feel better. Just knowing that he wouldn't push me to go too far like some guys would've makes me feel more safe with him than with any other guy. I pulled him along behind me and I fell into his cushiony bed full of fluffy white pillows and comforters. He slid in next to me, right then facing him, and being this close to him, made me feel unconditionally loved. He grabbed a soft blanket and draped it over the both of us; I yawned feeling tired but I didn't want to fall asleep just yet. I leaned in closer to him put my arms around him and kissed him once more and after our kiss I let out a sigh feeling perfectly content. "I love you so much." I looked at him, his chest, his face, how the firelight hit his face just perfectly and at that moment I closed my eyes falling asleep in his arms.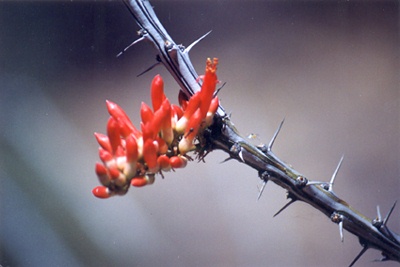 © Andy G., Phoenix, AZ