Breaking a Wall
December 28, 2009
I had known him for years. We had been best friends since high school. Yet I don't ever recall being this close to him. He sitting on the other side of my bed, intently watching The Sound Of Music with me. I had always known that The Sound Of Music was Jonathan's favorite movie. I thought that this would be the moment. The moment when I would tell him how I felt. But something else came out of my mouth.
"Jonathan I need to ask you something."
"Go for it," he replied. Still focusing on the movie.
"What was your grandfather like?" I asked tenderly. He looked at me know. Puzzled at my question. He had a troubled look on his face.
"I know its hard for you. But, it matters a lot to me. I just, I need to know." I said, knowing how tender the situation was. It was like walking on thin ice. His grandfather died over a year ago, but Jonathan never did have closure.
"I need to know because, well, you see, my grandfather died before I was born. You probably think it doesn't matter, but it really does affect me. Now more so than ever." I paused for a moment. Remembering all the stories that my grandmother, my nana, had told me about him.
"My grandfather,Pop-pop, was an amazing man from all the stories I have heard. He actually quit drinking and smoking for my nana," I began to smile, "He even eloped with her, they were so in love. He climbed up, on a ladder, to her bedroom window and got her. She left a note for her parents and twin sister. He was really good to her too. He gave up all these things for her. He loved her with his heart, soul and mind." I looked up to see Jonathan's eyes welling up in tears. He tried so hard to fight them back, I could see it written across his face.
"You don't have to build up a wall around me. You can be yourself," I said as I found his hand. He held on tight as the tears rolled out.
"I know." He said through tears. I rubbed his palm to calm him down.
"I have never really told anyone about my grandfather before. He was..." Jonathan began to choke up. I held his hand tighter as the words came out.
"He was quiet. He never really talked to us. I wanted to know him so badly. I thought that he never loved us..."
"Jonathan, he did. He might not have said it much. But with a person like you, and your family, there isn't much to not love. You are such a special person Jonathan. I'm sure he didn't praise you much for the things you did. But that isn't what love is. You love a person for who they are, and not what they do. Maybe your grandfather knew that. Maybe you were just looking for love in a wrong perspective." I let go of his hand. I looked down at my blanket that was seperating us both.
"My pop-pop had said that." The silence between us grew. I drew patterns of my blanket.
"I know one thing for sure though. They are both looking down on us now. I'm sure that they are both talking about us, and how they knew this would happen."
He laughed a little and smiled. "I bet. My grandfather was always a funny man."
I laughed too. "You know what my grandfather always said?"
I thought for a moment. Obviously not knowing the answer I replied, "No, what?"
"He always told me to be on the lookout for a girl who you can understand. Because all the others will either be too crazy or too boring. And you know what else?"
I laughed a little and replied, "No."
He smiled as he took my hand. "I think I have finally found her."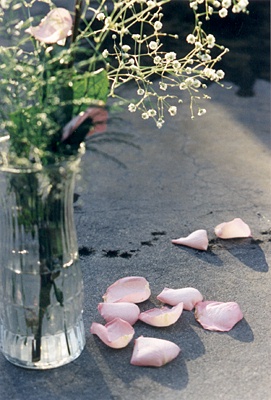 © Kathleen S., Maumee, OH