The sunset
March 27, 2010
"How many letters are in love" I asked Reberto.
"Four why?"

"How does love happen."

"You find a person that you can't stand to be away from.You dream and think of them all the time and you can't get them out of your head.Why?"

"Cause I fell in love with this person. I can't get them out of my head.I dream of them and I'm always with them."

"Who is it? Do I no them?"

"Yes, you do know them.It's you."

He looked at me with a gleam in his eyes. A sparkle spread into his eyes then down to his mouth spread a smile.He look the happiest I'd seen him in a while.

He reached his hand up to my cheek softly brushing it with the back of his hand. A small breeze blew past us and made my hair blow past my cheeks.

He reached down slowly to me. I raised on my tippy toes. His lips molded mine.Like a sculpture in the brezze we stould there. It seemed like forever before we seperated our lips.

I smiled and he said,
"I love you too. I always have."

One small tear fell from my eye, and he brushed it away with his thumb. It was a fairytale momment I wanted to last forever.

The sun was setting and the sky was turned a bright orange sherbert.

He held my hand as we walked on the beach together. I was happy and I was completely whole. For once in my life I felt like I had a meaning to this world.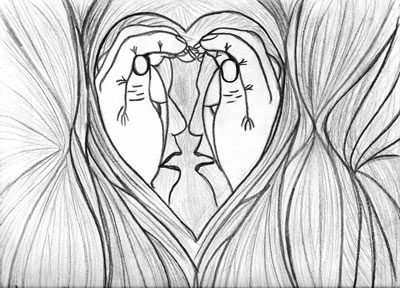 © Roumany P., St. Paul, MN