The Perfect Valentine
April 13, 2010
She sat beside him as he smoked his last cigarette with his shirt half-way unbuttoned. "Those will kill you." She said as silence grew over the room "So what are you planning for us tonight?" she asked with a shy smile. He look straight into her olive green eyes, stoked her face, kissed her cheek, and walk out of the room.
"Now what does that mean?" She thought to herself. Thirty minutes later he walked out of his room dressed in a formal dress shirt, pants, tie, and converse. She looked down at herself and saw that all she was wearing was some blue jeans, a t-shirt, and a pair of un-matching socks.
"Go look under my bed in the white box." He said to her. She took her sweet time getting into his room making sure she did not trip over the un-washed clothing in his floor. She took the box out of under his bed and opened it.
Her eyes grew wide as she touched the dress made of black silk and purple lace. As she stood up she glanced over his bed and saw a pair of purple flats. She stood there with a tear coming down her face while thinking "He does too much for me." She did not even hear him sneak into the room.
But when he wrapped his arms around her she felt a love that was true. "A woman should love God so much that a man should have to seek God to find her, did you know that?" She asked him. "You only tell me that every other day." He said.
"Do you?" She said under her breath thinking he did not her. "Only every day." He reassured her as he wiped the tears from her eyes.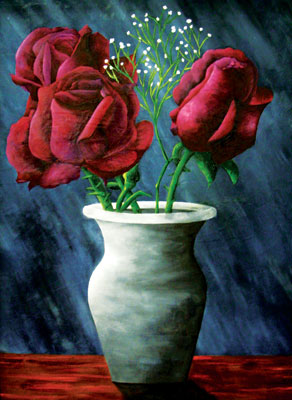 © Brandon S., LaFollette, TN